Cecil Miskel's centennial gift supports education administration and policy students

When Dr. Cecil Miskel became dean of the School of Education in 1988, he arrived with the goal of reinvigorating the school by recruiting the best faculty members and students, both in the state of Michigan and nationally. Looking back, Miskel feels his mission was accomplished. Under his leadership, the school expanded both the number and the stature of its faculty, and the '90s became a rich era for research in education. But, of course, the work is ongoing, and supporting students is a key way to enrich their educational and research experience at Michigan.
When Miskel retired as dean in 1998, friends and supporters honored him by creating a scholarship fund in his name. Now, in recognition of the school's 100th year, Miskel has chosen to expand and enhance that fund through a centennial gift bequest. Renamed the Cecil and Sue Miskel Centennial Scholarship Fund for the Study of Educational Administration and/or Educational Policy, the new scholarship will bolster research in two areas that were the focus of Miskel's 36 years in education.
"One of the problems in the field of educational administration and policy was there was never really enough support to bring in many really good students to become future practitioners or scholars," Miskel says of the inspiration for his gift. "The University of Michigan has a unique capacity to recruit really good students in that area, and it has a vast repertoire of opportunities for students to pursue in the school and across campus."
When the previous fund was first established in Miskel's name in 1998, it started with what Miskel describes as "a modest amount of money" contributed by well-wishers in the SOE community. "It was designed to provide pretty modest kinds of support for travel and finishing dissertations and that sort of thing." Even so, with the university's financial management and the growth of the stock market over the past 20+ years, "that fund has grown quite a lot."
The new Cecil and Sue Miskel Centennial Scholarship Fund for the Study of Educational Administration and/or Educational Policy has broader criteria for consideration than the previous scholarship and is open to any student researching K-12 school administration and policy training. This gives school leaders greater flexibility to consider students working on innovative projects. "Times are going to change and are going to change over many decades," the former dean says. "And so the specific criteria are really left open because the needs will evolve and in directions no one can really anticipate."
"My first class as a PhD student was with Cecil, when he was dean of the SOE," says Don Peurach, Professor of Educational Policy, Leadership, and Innovation. "At that time, Cecil was on the editorial board of Educational Administration Quarterly, and he and Wayne Hoy were completing a new edition of their textbook on educational administration [which was the standard for the field for many years]. Cecil was always generous in sharing insights and providing guidance from his perspectives as dean, as a leader in the field of educational administration, and as an informal mentor. I was very fortunate to have the opportunity to work with him at that early point in my career."
PhD candidate Rachel Kuck was among the most recent recipients of the Miskel Centennial Scholarship. She is studying the work of advancing schoolwide Project Based Learning (PBL) as an innovation with potential to promote both quality and equity in student learning as part of a broader study at the University of Pennsylvania examining teacher and leader practices of implementing PBL.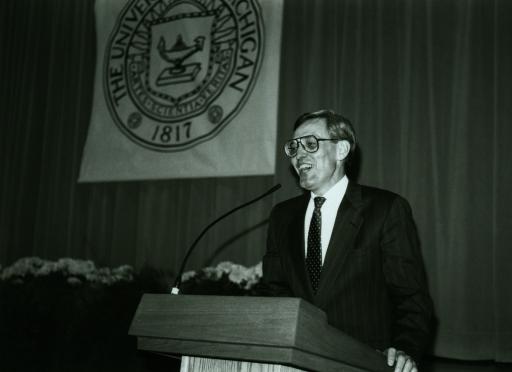 "There's been a lot of research about the curricular requirements for implementing PBL, but not as much about the people involved [students, teachers, community members or orgs/disciplinarians]," Kuck says. "On top of this lack of research on the people involved with PBL implementation, there's also been little work concerning scaling and the role of leadership in supporting or driving PBL implementation." Her research questions involve the leaders' views on the defining characteristics of PBL, the ways PBL requires educators and institutions to change their practice, and the organizational characteristics that support implementation.
"My time at Michigan has truly changed my life and career trajectory," Kuck says. "I have learned more than I ever thought possible and am so motivated to use this new, deepened lens to do the best work I can for and with our students and their communities. It has been more challenging than I anticipated to conduct research and to do my writing from afar, and this generous endowment will make all the difference in my ability to progress smoothly."
Miskel says that he hopes the new Miskel Centennial Scholarship will provide meaningful support to a greater number of students. With his bequest and the more ambitious scope of eligible research, he says, the scholarship "will be substantially enhanced and we'll be able to provide quite a bit of student support."