SOE Dean Elizabeth Moje shares her thoughts on the direction of education and the SOE in the next century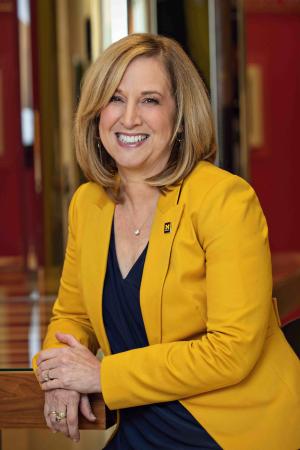 We do not know for certain what our second century will bring. Yet as educators, we understand the power of planting the seeds today that will flourish tomorrow. My vision for the future of education and for the School of Education is to fulfill the promise of just, equitable, and quality education opportunity for all children, youth, and adults in this country. In our future, education is a human right to which every individual has access; it is meaningful and central to all of our lives; and it empowers people to address the most pressing challenges of their communities and of our world.
This vision is deeply optimistic, immensely ambitious, and yet highly achievable. I have the honor of working with the brilliant minds that are building toward this future of education—our world-class scholars, our SOE students and alumni, and the educators, youth, and children with whom we engage. The work each of us does as individuals has the power to change lives. But our collective work has the power to transform education—and society—as we know it.
To set the course for 2121, let's explore where we want education to be and how our school is heading in that direction. I'm asking you to imagine with me what it would look like if…
Meaningful life-long learning is accessible to everyone
In 2121, society collectively values education, and education's central role in addressing all societal problems and community needs. We are committed to providing meaningful life-long learning opportunities for all individuals. Stable partnerships among schools create seamless learning pathways among preschool, K-12, and higher education that are aligned to assure education access from birth through adulthood.
Organizations, institutions, and communities collaborate and engage with schools to provide and receive resources. Schools are a hub in which students, community members, and educators are learning from and with one another. Schools are thus inseparable from the neighborhoods in which they are located; indeed, schools become the cultural hubs of neighborhoods, and it is through education opportunities that individuals make sense of the world and their ability to shape it.
How is the SOE working to make meaningful and continuous life-long learning a reality?
Transformative learning experiences: By employing our own research on the learning sciences—which includes the study of how people learn, the design and implementation of learning innovations, and the improvement of instructional methods—we are developing high-quality learning experiences for children and youth in and out of school. Concomitant with our contributions to the field of learning sciences, we produce curricula, new models of teaching and learning, and materials to guide instructional practices in early childhood education, literacy, history and social studies, science, mathematics, and world languages. Our work helps teachers engage in best practices based on the science of learning.
Education access from birth through adulthood: We are leading the way in removing barriers to education access by advocating for universal pre-K and effective pre-K curriculum. We are also working tirelessly to dismantle long-standing barriers to postsecondary education access and retention through admissions reform, college preparation, financial aid, and student support.
Learning-focused degrees and certificates for U-M students: We drew from our research to launch the Learning Experience Design certificate, which is available to graduate students across campus. Through coursework and authentic design opportunities, students gain the foundational knowledge necessary to design innovative and engaging educational experiences in diverse contexts. For U-M undergraduates, we are planning a new 4-year bachelor's degree program focused on the role of education in building just and equitable communities. By understanding how people, communities, and organizations learn, students will gain a new set of tools with which to offer solutions to complex problems.
Detroit P-20 Partnership: We have launched a prenatal-through-career (P through 20) education partnership on the Marygrove campus in northwest Detroit to serve as a national model for neighborhood schools. Learners age 0-20+ are empowered by innovative problem- and place-based learning that allows them to lead positive change in their communities. Robust partnerships engage experts in facilitating projects and offering resources that address the holistic needs of students and families.
The SOE is at the center of a thriving teaching renaissance
2121 is also a time when educators are well-respected, well-supported, and well-compensated for their contributions to society. Society acknowledges the professional preparation that teachers undertake and trust their expertise in learning, instructional practice, and the development of children and youth. We finally recognize the critical role teachers have in preparing every person for life, work, and citizenship. It is also understood that innovation and advancement are possible through education, so we commit to investing in education and teachers. The teaching profession is supported and respected on par with other professions that require advanced training such as medicine or law. As a result, excellent teachers are plentiful and are as diverse as the nation's students.
How is the SOE working to assure the teaching profession is thriving in the future?
Research on the teaching profession: We are distinctive from other schools of education as a research institution that studies teaching and learning to teach. We are also distinctive as a teacher preparation program that uses our own cutting edge research to develop our programs and inform our pedagogy. Among our studies are investigations of effective teaching practices, use of curriculum materials in supporting ambitious teaching, performance-based assessments of teacher development, and consequences of teacher churn.
Michigan Education Teaching School: Within The School at Marygrove, we are leading an innovative educator preparation community based on the medical education model. It is grounded in supportive communities of practice that include pre-service, novice, and expert teachers as well as teacher educators.
Teach Blue initiative: We are developing the teaching force of the future by bolstering the entire trajectory of the teaching career. This involves recruiting diverse young people to the profession through grow-your-own programs; investing in teaching students; supporting early career teachers; and elevating advanced career teachers.
TeachingWorks: Working collaboratively with practicing teachers and teacher educators, TeachingWorks supports teacher educators in learning how to help new teachers develop the skills needed to do the complex work of teaching. Their commitment to preparing excellent beginning teachers is inseparable from their approach to disrupting patterns of injustice in the classroom.
Trauma-Informed Practice Interprofessional Collaboratory: The SOE leads collaboration among professionals seeking to address the sources and consequences of injustice and trauma in the lives of children, youth, families, and communities. This work is critical for supporting educators, but also professionals in medicine, law, public policy, and social work, who must work together to meet the needs of children and communities.
Certificates and endorsements: We continue to build programming that prepares teachers with specialized knowledge to support them throughout their careers. Teacher education students have the option to add a certificate to teach in International Baccalaureate schools, an endorsement to teach ESL, and a certificate in trauma-informed practice. We also offer high-quality, affordable continuing education opportunities through our new digital EdHub. Courses and certifications in topics such as educational technologies, disciplinary literacy, trauma-informed practice, early literacy development, and inquiry-based learning join the suite of online offerings that began with our MicroMasters in Leading Educational Innovation and Improvement.
Diversity, inclusion, justice, and equity are fixtures of education and education systems
2121 would be an era in which inclusive education systems are the norm rather than exception, serving diverse groups of learners, creating equitable access to educational opportunities, and centering justice. Although we will always have to work to redress historic, systemic inequities and prevent the development of new inequities, we will have reached a place in our society where we have the tools necessary to check our systems, institutions, policies, and curricula to ensure that they enable diversity, inclusion, justice, and equity. Our educators are equipped to empower all students and the education experience in this country centers knowledge, voices, and perspectives that reflect the rich diversity of our nation.
How is the SOE working to create education systems that realize the promise of serving everyone?
Educational leadership and policy: We are working to assure that all children, youth, and adults have access to high quality schools, excellent and caring teachers, inclusive curriculum and pedagogy, restorative practices, and transformative learning opportunities. To achieve this, we must dismantle inequitable education practices, policies, systems, and access—particularly those rooted in racism and classism.
Preparing our graduates: Across every program and degree, we are committed to centering diversity, inclusion, justice, and equity so that every SOE graduate brings these values to their contributions in education. Together, we cultivate these values in our work as educators, administrators, and school leaders; as researchers, higher education professionals, and policy makers; and as leaders of nonprofits, businesses, and government agencies.
Learning in, with, and from communities: The CREATE (Community-based Research on Equity, Activism, & Transformative Education) Center draws together researchers, practitioners, and activists from within and outside of U-M to transform public education. Together, CREATE Center affiliates conduct research and use their findings to advance equitable and antiracist educational practice and policy.
What would it look like today, as we embark on this second century, if we each did everything in our power to build a future in which just and equitable education for all is more than just a promise? I hope you will join us in finding out.
— Dean Elizabeth Moje