Combining data and student experiences, CSHPE student Fernando Furquim helps Minneapolis Community and Technical College navigate familiar and unfamiliar challenges toward greater health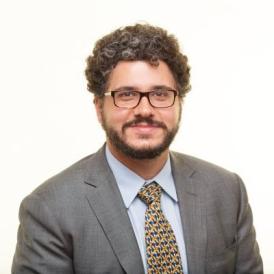 Fernando Furquim works just four miles from the intersection where George Floyd was killed by police on May 25, 2020. As the director of institutional effectiveness at Minneapolis Community and Technical College (MCTC), Furquim's role and that of the college took on new significance in the face of dual pandemics: COVID-19 and racial violence.
Furquim is a doctoral candidate in the Center for the Study of Higher and Postsecondary Education. He applies his training to the work he does at the college, which includes research, strategic planning, and maintaining college compliance with state, federal, and accrediting bodies.
As an urban community college, his institution serves populations that face and challenge inequity. The MCTC community includes many students of color, first-generation students, and Pell grant-eligible students.
"We have already been working with students who face barriers with access to high-quality education, and we also have data that show a high rate of housing and food insecurity among our students, just like at many other community colleges," says Furquim. His college's wraparound services and supports became particularly relevant due to the effects of the pandemic, beginning in early spring. "The inequity is hard to fight normally, but then the pandemic came. Some students lost their work, or their safety nets, or were feeling unsafe due to preexisting conditions, so COVID-19 brought about quick changes to their earnings as well as their academic lives."
Furquim and his team worked quickly to connect with students, collect data to inform the college's plans, and support changes that would support students. "We knew it was important to collect information to get a sense of how students are navigating this change to remote learning. We found that 10–15 percent of students only had access to their smartphones to do their coursework, so that is one area we are looking to assist students with," he says. "We also found that many students lacked access to reliable internet and a quiet place to study. The infrastructure and resources on campus are critical to them." MCTC staff and advisors decided to quickly roll out laptop loaner programs, make software easily available to students remotely, and connect students to community resources.
His team also supported offering emergency course withdrawal options and expanding options for Pass/No Credit grading to help ameliorate possible academic issues caused by the sudden onset of new challenges facing students. "These policies for withdrawal, grading, and other challenges were definitely a deviation from our normal practices meant to support the huge efforts faculty and students were already making," he notes. Furquim and his team realized that these adjustments were necessary because not all students could seamlessly transition to online learning. Keeping a positive attitude toward learning in the pandemic was important to his team so that they could best support their learners.
The college also amplified existing programming to meet the needs of the community, including anti-bias training, intercultural supports for students and staff, professional development for faculty, and a systemwide plan to eliminate equity gaps by 2030, called the Minnesota State Equity by Design initiative. "The college continues to think through what the pandemic and George Floyd's death have meant for the college and locally," he says, adding that "it's always been our responsibility to our community to support its health. The college has taken this time to reinvest in our equity and social justice commitments." One important aspect of this work is continuing to engage and listen to students despite not being on campus this fall.
The college has offered additional programming around their aspirational goals of improving equity across campus and Minneapolis as a whole. This includes launching an ambitious program to identify, educate, and cultivate future leaders who identify as African American, Black, or American Indian through the Breakthrough 2020–Bridging the Equity Gap Initiative. The new initiative was established in response to the social justice movement of 2020 surrounding the tragic death of George Floyd. The program will be an affirming cohort experience where students are equipped with the tools to see greatness in themselves as well as in the experience of others. Students will be provided supportive faculty, staff, and student-centered resources that equip them with the information, motivation, and agency needed to attain their education, achieve their career goals, and become leaders in their fields. MCTC has also reached out to the Minneapolis public school district, which is going through several large-scale reforms to better serve students of color. Since many graduates of the local schools will attend MCTC, the college is eager to invest in their success and is hopeful that the redesign supports students to be college-ready.
Furquim credits the SOE for his ability to make quick adjustments as a college leader during the current crises. "They clearly prepared me, between my thinking, research, and analytical tools that developed at CSHPE," he says. "I feel a sense of domain knowledge and a finger on the pulse of national practices across community colleges—what seems to be working and not. I feel well-informed and well-trained to do the kind of research that can move a college like mine forward," he says, adding that "being in the SOE environment made me more aware of how institutional climate and experiences burden students of color. It prepared me to face my current conversations in this new role in a conscientious way."
In attending the University of Michigan, he focused on developing skills as a quantitative researcher, which now complement his closer contact with students. "In this role, I have more contact with students and it's easier to see and internalize the impact of decisions about how we do all sorts of things. These include the ways in which we will disperse federal CARES Act funds, what it means to ask students to take online courses when they didn't want to, how we will hear from students when they are not present on campus, and how to best support students. I hope to help guide college leadership work through these challenges with data," he says.
Furquim's role has made him more student-focused. "Now, the first thing I think of is the students themselves. When my team works on research, one priority is to figure out how to communicate what we learn to students. This type of work is much more about individuals than I expected, but then with the pandemic—not to mention George Floyd's killing happening a few miles from campus—it's all about the student experience. Data and numbers alone would not reflect the fact that Minneapolis is facing so many overdue reckonings, so they could be overlooked by viewing events through a quantitative angle alone. Now, I get a more well-rounded view on students focusing on the needs of people who attend and work at MCTC."
A father himself, Furquim understands the challenges teachers, staff, and others in the education community face. "I think immediately of my day-to-day life," he says, "where my daughter is attending first grade online, and I will continue to balance my work with making sure that my daughter is engaging healthily with the world. The real need is for balancing and prioritizing. Only a few things can get done, even fewer can get done well, and everything else has to take a back seat. We need higher education leaders to understand and embrace that."