Jonathan and Kelly Opdyke honor family and support Detroit through two new gifts at their alma mater

Story by Madeline Swanson for Leaders & Best Magazine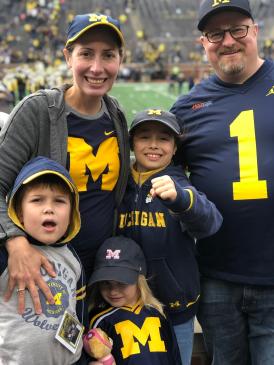 Jonathan (BSEIO '99, MSE '00) and Kelly (AB '98) Opdyke were born and raised with Michigan in their blood and a love for the Motor City. Recently, they invested in the revitalization of Detroit through gifts to U-M's School of Dentistry and School of Education.
With generations of U-M alumni and Detroiters on each side of their family, Jonathan and Kelly both have deep family ties to the Detroit area and the university. Kelly's parents grew up in the city of Detroit, and her father Dr. John H. Morrison Jr. (AB '65) and three siblings all attended U-M. Jonathan, a third-generation Wolverine, was raised just outside of Detroit with his parents, William Opdyke (BS '73, DDS '77) and Karen Opdyke Feldman (BSDHyg' 74). Jonathan's grandfather, Robert Opdyke (BSEMe '43), grew up in Detroit and his great-great-grandparents owned a farm in Bloomfield Hills on what is now Opdyke Road.
Carrying on their families' tradition, Jonathan and Kelly eventually joined the Michigan alumni community. Not long after graduation, professional opportunities led them out of state, and they have since become successful entrepreneurs and philanthropists who are passionate about building thriving communities. Kelly maintains they are still "Michigan kids at heart" who frequently return home for visits with family, the occasional Detroit Tigers game and, of course, fall Saturdays at the Big House.
Starting about a decade ago, with each trip home, they witnessed the growing energy and excitement around Detroit's modern renaissance. For the Opdykes, this renewed sense of optimism in a city that has meant so much to their families inspired them to help fuel its resurgence. They began investing in Detroit real estate in 2018 and last year Jonathan (along with multiple fellow Wolverines) helped found Greatwater Opportunity Capital, a rapidly-growing real estate private equity firm focused on rehabilitation and new construction of multi-family housing in Detroit neighborhoods. Their investments in Detroit led them to various neighborhoods where they got to know local residents, community advocates, and business leaders, as well as the unique challenges facing each individual community.
"We knew that flourishing neighborhoods would be critical to Detroit's rebirth, and that it would start with improving education and strengthening the city's institutions," Jonathan Opdyke said.
Universities are the lifeblood of many thriving modern cities. Since its founding in Detroit in 1817, U-M has helped educate the workforce, generate knowledge and understanding, and fuel economic vitality. But in the city of Detroit, where the poverty rate is nearly three times the national average, residents experience many layers of challenges that stem from a lack of resources, including attracting and retaining educators equipped to teach in underserved environments.
But at U-M's School of Education, a potential plan was brewing that would bring to light exciting opportunities for Jonathan and Kelly to be part of the solution.
On a trip home to attend Camp Michigania, U-M's family alumni camp in Boyne City that Kelly frequented as a child, the Opdykes met Elizabeth Moje, dean of the School of Education and the George Herbert Mead Collegiate Professor of Education and an Arthur F. Thurnau Professor.
She spoke about the school's new P-20 partnership in Detroit, a collective impact model built through a collaboration among the U-M School of Education, Detroit Public Schools Community District, Starfish Family Services, the Marygrove Conservancy, and the Kresge Foundation. When the Opdykes recognized that U-M shared their passion for helping to revitalize Detroit neighborhoods through education, they were eager to get involved.
In 2018, the P-20 partnership launched a cradle-to-career educational campus in Northwest Detroit. The P-20 partnership includes a PreK-12 school named the School at Marygrove, a cutting edge teacher training program, and community-in-schools approach to education. Unlike any other institution in Detroit, the partnership is committed to a project- and place-based, holistic educational experience, where learning opportunities will promote social justice, foster student agency, connect students' academic work with broader community needs, and much more.
"We were really impressed that the Detroit Public Schools Community District and the university were able to form this partnership. It's truly inspiring to see U-M apply its world-class resources to address inequities in its own backyard," Kelly said.
The Marygrove campus adopts a "community-in-schools" approach—a model that recognizes that addressing the physiological, sociocultural, and socioemotional needs of students are critical for learning. By providing an ecosystem of wrap-around support, this approach aspires to give every student the chance to succeed at the highest level. It was this comprehensive vision for the School at Marygrove that inspired the Opdykes to explore more about the partnership.
Jonathan and Kelly soon learned of a collaboration between the School of Education and the School of Dentistry to build a dental clinic on the Marygrove campus, and they saw the perfect opportunity to honor the memory of Jonathan's father, whose life was cut short by a heart attack at age 43. It also resonated with Kelly's background and career in public health.
With a generous gift to the School of Dentistry, the Opdykes, along with several family members established the William R. Opdyke, DDS Memorial Dental Clinic at Marygrove. Among other health care services planned for the campus, the clinic will offer oral health care to the students enrolled at the School at Marygrove. Although dental care isn't always top of mind for students and their families, research shows that having good oral health is critical for students to stay engaged.
"We've seen that when dental issues persist, school can be low on the priority list," Jonathan said. "By providing access to preventative and curative care at school, we hope we can help kids focus more on learning, and not on their health care needs. Through this gift, we want to help make learning a top priority for young kids."
The Opdyke's initial gift to the clinic spurred additional conversations with Moje about Marygrove's future and U-M's growing presence in Detroit. Inspired by the School of Education's efforts to enhance education in Detroit, they established the Jonathan and Kelly Opdyke Urban Educator's Fund to provide financial assistance for School of Education students and teaching residents working at Marygrove.
The P-20 partnership encourages School of Education students to gain experience teaching in underserved school districts, with the hope that they will continue working in these communities after graduation. Evidence from a similar program at the School of Dentistry shows that 11 percent of the most recent graduating class returned to practice professionally in underserved communities after graduation, as compared to the national average of only two percent of all U.S. dental school graduates.
Jonathan said he hopes this scholarship will encourage a similar pattern with education students in the P-20 program.
"In an era where education is underfunded, inspiring future teachers to continue working in communities like Detroit is a key component to enhancing the entire public education landscape."
Moje shares Jonathan and Kelly's aspirations for recipients of the scholarship.
"The teaching interns who train at Marygrove are uniquely prepared to create empowering learning opportunities for children and youth because they practice side by side with experts using research-based curricula and teaching strategies," said Moje. "These new teachers are not only seeing, but also practicing, the most cutting-edge teaching, designed to engage and inspire children and youth to be leaders of positive social change. This generous gift from the Opdykes will help us attract teaching interns committed to serving in urban areas and provide the financial and professional support they need to continue this work after they graduate. The Opdykes are helping us build a new kind of teaching profession."
The School at Marygrove aspires to be a model for the future of elementary and secondary education in the U.S., and support from donors like the Opdykes is carrying this critical work forward.
"This is a really exciting and pivotal time for our hometown and we had been looking for the right opportunity to give back," Kelly said. "We hope that partnering with our alma mater to bolster educational opportunities in Detroit will inspire others to get involved."
In addition to the gifts to the School of Education and School of Dentistry, the Opdykes have supported the College of Engineering, the Alumni Association of the University of Michigan, and the College of Literature, Science, and the Arts. Jonathan and Kelly both serve on the Dean's Advisory Council at the School of Education.