Providing opportunities for all who seek to enter the greatest profession

The SOE is introducing a new approach to support teachers as a response to declining enrollment in teacher education programs across the country, critical teacher shortages due to high attrition, and gaps in teacher training as districts anxiously attempt to staff their schools. The Teach Blue Initiative addresses the challenges of recruiting, preparing, retaining, and recognizing teachers by providing a comprehensive pipeline of opportunities and resources.
Dean Elizabeth Moje, who developed the initiative with the input of colleagues and advisors, says, "For the past several years, we have analyzed the factors that are negatively affecting the teaching workforce. As leaders in teacher education with robust school and community partnerships, we are uniquely poised to meet the prevailing challenges to the profession through a fresh approach to recruitment and retention. With the Teach Blue Initiative, our vision is to introduce opportunities and resources that work together to support educators at all stages. This initiative is central to our efforts to 're-professionalize' teaching."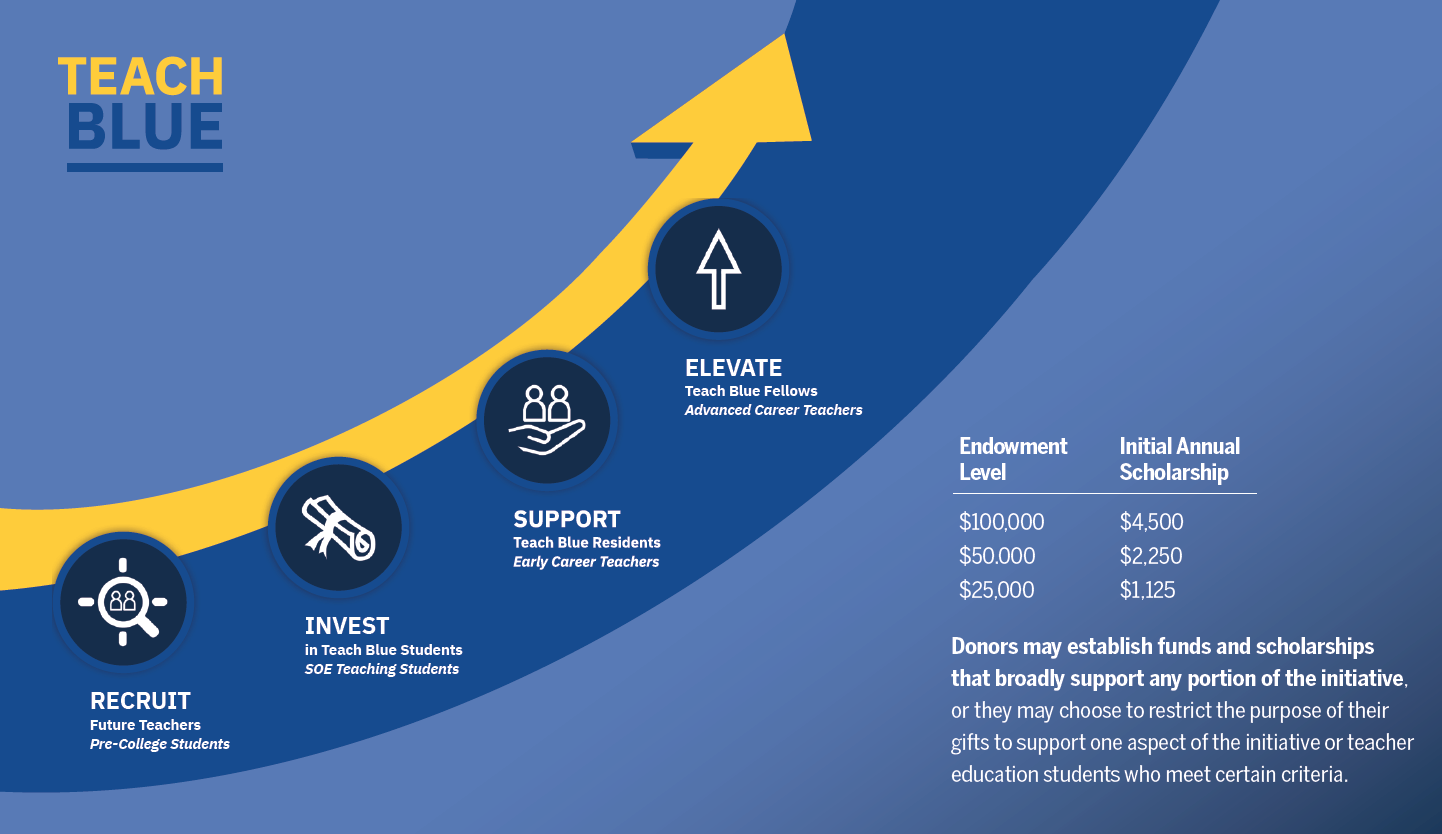 Recruit
Recruiting young people to the profession through Grow-Your-Own programs
Beginning with efforts to recruit diverse students into the SOE's Educator Preparation Program, Teach Blue will help young people discover teaching and consider a career trajectory that begins as an educator. Grow-Your-Own programs engage youth in learning activities that help them prepare for college admission. Focusing particularly on districts with teaching shortages, typically in urban areas, students who participate in Grow-Your-Own programs, are admitted to the University of Michigan, and are committed to teaching will be offered scholarships to offset the cost of their four years of tuition. Grow-Your-Own programs help young people prepare for and finish college, recruit wonderful candidates to teaching, and provide future staff for hard-to-staff schools and districts.
Invest
Investing in future teaching professionals through tuition-free teaching degrees
Salaries for beginning teachers can be in the range of $35,000 with a low ceiling for salary growth over time, which makes the choice to take on student loan debt a difficult one, even for those who are passionate about the profession. Currently, SOE undergraduates who accumulate debt have an average debt of $23,466 at graduation. The fear of overwhelming student debt should not deter outstanding future teachers from entering the profession and doing so at U-M. The Teach Blue initiative offsets the cost of a degree for students seeking certification through the SOE's professional teacher preparation program. With the goal of being able to offer tuition-free teaching degrees, the SOE seeks to enable students—particularly those recruited through Grow-Your-Own programs—to achieve their degrees at U-M and to pursue their dreams of teaching.
Support
Supporting and retaining early career professionals with Teaching Residencies
After graduation, novice teachers continue to be supported as "Teach Blue Residents." This urban teaching resident stipend encourages teacher education graduates to commit to working in an urban school after graduation as residents, while simultaneously continuing their studies as teaching residents of the SOE. Teaching residents are fully certified teachers eligible for independent teaching status, but offered continued support from the SOE as part of the Teaching School structure. The first residents will be located at Detroit P-20 Partnership schools, but this program may expand to include other partner schools over time. Teaching residents serve a three-year residency, in which they are supported with a reduced teaching load and mentoring from SOE faculty and attending teachers in the first year, with removal of those scaffolds over time to allow them to move toward completely independent teaching. After the third year, the teaching residents will be offered positions in other Detroit public schools, opening the residency positions to other newly graduated novices. In addition, SOE will offer professional development opportunities that will assist the residents in moving from initial state certification to achieving their professional state teaching certificates.
Elevate
Elevating expert professionals through the Teaching Fellows program
Teach Blue continues to advance the work of experienced teachers, too. "Teach Blue Fellows" will be provided opportunities to work on teaching challenges together and to access professional mentorship provided by SOE faculty. The fellowship program will also shine a spotlight on excellent teaching and give acclaim and thanks to the often-unsung heroes of education. The fellowship concept was suggested by Rod Franchi (Teach Cert '95, AM '09), an SOE alumnus and classroom teacher, and has created excitement among other experienced teachers. It will provide a unique form of professional development that gives advanced teachers opportunities to contribute to the professional development of novice teachers. One goal of the fellowship is to motivate expert teachers to stay in the classroom by providing individualized learning opportunities as well as a stipend during their participation in the fellowship. Fellows will participate for two years and, in that time, define a problem space and an approach to it. At the end of the two-year program, fellows will present their findings and experiences at a symposium held at the SOE. Funding will support stipends for fellows, support for project costs, conferences, publishing the results of fellows' work, faculty incentives to partner in developing the study design, travel, and a symposium.
Lead gift from The Harry A. and Margaret D. Towsley Foundation launches the initiative
Supporting students through scholarships has been a commitment of the SOE for decades. Teach Blue brings existing and new scholarships into the comprehensive framework offered by this initiative. The Teach Blue Initiative is only possible through the investment of donors. All scholarship funds directed by donors to teacher education students are part of the effort.
In summer 2020, the SOE received a leadership gift from the Harry A. and Margaret D. Towsley Foundation in honor of Lynn Towsley White for her years as an educator and her service to the SOE as a friend, supporter, advocate, and member of the Dean's Advisory Council.
Established in 1959, the Harry A. and Margaret D. Towsley Foundation was created by Margaret Dow Towsley with stock from the Dow Chemical Company. Margaret's father, Herbert H. Dow, founded Dow Chemical. Harry A. Towsley was a physician and professor of pediatrics and communicable diseases at U-M. Together, Harry and Margaret raised five daughters. Lynn Towsley White, the youngest of the couple's daughters, has served on the foundation's board of trustees since 1967.
White is a retired middle school teacher who has served on the SOE's Dean's Advisory Council since its inception in 2007. In addition to serving in this capacity during the administration of two deans, Deborah Loewenberg Ball and Elizabeth Birr Moje, White has a special connection to the SOE as a graduate of University High School, which was housed in the current SOE building.
The foundation has supported many initiatives coming out of U-M—including at the SOE—that accomplish the organization's goal to offer creative and sustainable approaches to improving the lives of people and communities. "It is crucial that we support our nation's teachers with innovative approaches to recruitment, training, and retention," White says. "The Teach Blue initiative builds on the work the School of Education has been doing for over a decade. I am proud that the Harry A. and Margaret D. Towsley Foundation has honored me with this gift and I am excited to see the initiative gain momentum."
The foundation's investment powers each aspect of the initiative as it grows. Lynn Towsley White Scholarships will be awarded to students who are pursuing teaching in urban settings, particularly those who seek to be involved at the School at Marygrove. The Lynn Towsley White Residency Awards will support teaching residents, providing support in numerous ways, including tuition assistance for graduate coursework, loan repayment, help with living expenses, stipends for classroom teaching supplies, and professional development.
The gift from the Harry A. and Margaret D. Towsley Foundation kicked off the SOE's effort to raise $50 million in endowed funding for the Teach Blue Initiative. Donors may establish funds and scholarships that broadly support any portion of the initiative, or they may choose to restrict the purpose of their gifts to support one aspect of the initiative or teacher education students who meet certain criteria.
Students tell the real story of the impact of Teach Blue scholarships
Students are already benefiting from scholarships under the Teach Blue initiative. Existing scholarships that donors designated for teacher education students are being leveraged to attract and retain prospective teachers.
Amy Avery, a former paraprofessional at Milan High School who decided to pursue her teaching certification, says she could not have done it without scholarships. Avery received the Nelda Taylor Endowed Scholarship, and in 2021, she will graduate exactly 90 years after Taylor graduated from the SOE. Avery explains that she was often overlooked for financial aid in the past. "My needs to make ends meet as a blended family of six far exceed my family's take-home pay, and scholarship funds allow me the opportunity to attend school and complete my degree while helping provide opportunities to have basic necessities within my home. The SOE was the only program that considered my cost of living, and by closing this gap for students like me, we are more able to focus our energy on our education." She adds that this scholarship was especially essential to her family as they weathered the COVID-19 pandemic onset, saying that she was able to contribute finances to her household when her husband's working hours were reduced.
Nicole Afton received several scholarships, including the Ada Cogswell and Ira Schluter Scholarship and the Thomas A. and H. Ellen Mullett Scholarship. She was studying psychology and volunteering in a preschool when she realized that she wanted to change her major to education. She was concerned that adding time to her degree would be financially impossible, but Teach Blue resources made it possible. "My past two years of school, I didn't have to pay tuition or take out any loans, and it looks like I won't have to do that again this year," she says. "It's taken so many of my worries away knowing that I have these scholarships. Before them, I had to work two jobs. This opportunity is amazing, it really is."
Alex Worth came from a large family with seven children, and she was planning to attend another university to keep costs down. "I wanted to get the best education possible, but I also needed to take my finances into account, so it was a balance for me," she says. "The scholarship support I received at the SOE made a huge difference that allowed me to attend U-M. The SOE was the only school of education that worked really hard to support me as a student financially, and that made a big difference."
Worth's parents and grandparents are Wolverines as well. "They were thrilled when I was able to attend U-M," she says. Worth is planning to teach both secondary education and psychology. She says the staff in the SOE Office of Student Affairs were encouraging and accommodating so that she could finish both certifications and graduate on time. "They pushed me to continue working to gain the psychology certification, which opened up a lot of learning for me that has been helpful in education," she says. In spite of rapid changes taking place across the field of education, she feels prepared for whatever happens next, adding, "I'm just so excited."