Master's student Paula Manrique Gomez Pfeffer provides an educational sanctuary for undocumented youth during COVID-19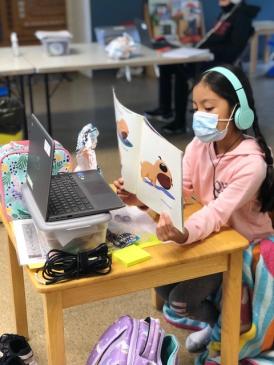 There are 14 doors at the Church of the Good Shepherd (COGS) in Ann Arbor. With so many building entrances, it is not uncommon for members of this multiracial, LGBTQ-affirming congregation to joke about being an open-door church. And this fall from 8:00 a.m. to 3:30 p.m., each one of their doors will remain ajar.
The new open-door policy is one of several safety measures adopted to reduce the potential spread of COVID-19 amongst the church's newest visitors: 24 local students ranging from pre-school to grade nine. During the pandemic, a group of students coming together in person to complete schoolwork virtually has been dubbed a "learning pod." The purpose of this learning pod, officially known as the Ann Arbor Community Learning Center at COGS, is to provide a safe and engaging space for children and youth from low-income immigrant families while they attend school remotely. Participating students are offered support understanding the curriculum, healthy food and snacks, and enrichment and outdoor activities to balance screen time.
"When the pandemic started and Ann Arbor Public Schools decided to remain online, I realized that a lot of privileged students were forming learning pods," Paula Manrique Gomez Pfeffer, a graduate student at the School of Education, says. "Many opportunities opened up for educators like myself to work with a small group of students at home to help them navigate school. Instead of taking any of these offers, I decided to organize my community so that their children wouldn't fall even further behind."
Manrique Gomez Pfeffer is currently a master's student in the SOE's Leadership and Policy with Administrator Certification (LPAC) program, which focuses heavily on the need to increase both the excellence and equity of public schools. Originally from Colombia, she has a bachelor's in Early Childhood Education and Administration from UMass Amherst and is Montessori-certified from birth to 12 years by the Association Montessori International. She has worked as a Montessori teacher, family coach, and recently helped trained ten Latinx women with their 0-3 Introduction Certificate. Her goal is to open a bilingual (Spanish and English) Montessori Public school in Ann Arbor (a2montessori.com) to continue this work.
Manrique Gomez Pfeffer has called the United States home for 16 years but did not become politically active until she joined Movimiento Cosecha Ann Arbor-Ypsilanti a week after she received her U.S. passport. Movimiento Cosecha is a national immigrant-led movement fighting for permanent protection, dignity, and respect for all undocumented immigrants. The local Ann Arbor-Ypsilanti chapter began holding their meetings at COGS about a year ago when Paula first started attending their meetings and services at the church. Manrique Gomez Pfeffer learned a lot from Cosecha, including the more pressing issues and fears for the local immigrant community. "These families do not have a safety net. Children were going to be left home alone on a device," Manrique Gomez Pfeffer says. "The Center will help these children advance not only academically, but also socially since we are focusing on social and emotional learning. If they were home alone while their parents work, they would have been on screens the entire day—and we know the effects of extended screen exposure on young children's mental health."
With help from Movimiento Cosecha and COGS, Manrique Gomez Pfeffer was able to open the learning pod in time for AAPS's first day of school on September 8. The learning pod provides an alternative for children of undocumented Cosecha members who would otherwise have stayed at home alone, as well as repurposing an otherwise vacant building as church services went virtual. "Having our building utilized in a way that actually supports our mission has given us some vitality," Reverend Dr. Deborah Dean-Ware, the Pastor at COGS, says. As the first church in Ann Arbor to become a level-1 sanctuary church back in 2017, COGS is committed to hosting individuals and families on their premises.
Currently, the learning pod is run entirely on donations. Manrique Gomez Pfeffer serves as director for the learning pod on a volunteer basis, facilitating communication between the staff, parents, Cosecha, and the church. Other staff include a full-time, Montessori-certified teacher and two bilingual teaching assistants who, like many of the students, identify as Latinx. Several of the participating students require particular learning arrangements to accommodate for autism, language, and reading difficulties, and many have experienced trauma stemming from deportations of close family members and friends.
"These are children living with the day-to-day trauma of our unjust immigration policy," Dean-Ware says. "This is so much more than making sure they are online engaging with their curriculum. It's a place where maybe they don't have to feel so scared and alone."