Dismantling the School-to-Prison Pipeline Intruding on Detroit
Camille Wilson co-leads a joint effort with the support of a research-practice partnership grant from the Spencer Foundation
 


Detroit is on the upswing. For evidence, you need look no further than the hundreds of articles proclaiming the city's revitalization and resurgence. A few articles will mention that this revitalization has, so far, generally been limited to Detroit's downtown business corridor. Fewer still will detail the lack of opportunity and entrenched poverty that continue to plague many of the city's neighborhoods. Almost none will explain that one of the defining characteristics of these neighborhoods is the devastating effect that the school-to-prison pipeline has on children and families.
According to the Justice Policy Institute, even as juvenile crime rates are trending downward, school discipline policies continue to move in a different direction. Through policies that disproportionately discipline black students, advocate for "zero tolerance," and place law enforcement officers inside schools, a system has been created where trouble at school can directly lead students to their first contact with the criminal justice system.
Dismantling a system that endangers Detroit's children requires change at multiple levels, including improvements in early learning programs and K-12 schools, as well as policy changes for children and families confronting trauma, substance abuse, and poverty. Exploring these changes and the roots of the school-to-prison pipeline is the focus of a new project being spearheaded at the SOE.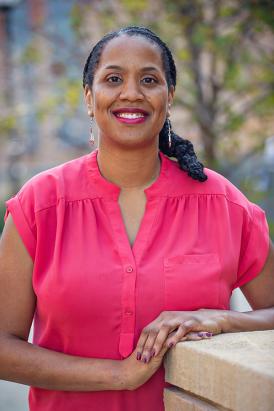 Dr. Camille Wilson, professor of education and recently appointed University Diversity and Social Transformation Professor, has helped develop a unique project that will utilize community action research teams to tackle the school-to-prison pipeline head on. Through a research-practice partnership grant from the Chicago-based Spencer Foundation, Wilson has developed Dismantling the School-to-Prison Pipeline Intruding on Detroit in conjunction with the Urban Learning and Leadership Collaborative and the Detroit nonprofit Focus: HOPE.
"Working with Focus: HOPE and the ULLC [Urban Learning and Leadership Collaborative] on Dismantling the School-to-Prison Pipeline Intruding on Detroit is a great opportunity for university, community, and youth partners to collaborate on conducting research that improves education and advances social justice," she said. "It is gratifying to co-lead this joint effort."
Founded in 2012, the ULLC is a partnership comprising residents of HOPE Village—a neighborhood in a roughly 100-block area that intersects north-central Detroit and Highland Park—community-based organizations, and three research university partners (University of Michigan, Michigan State University, and Wayne State University). The vision of the ULLC is for the community to leverage and coordinate university resources in support of neighborhood initiatives that address pervasive problems and create innovative solutions to community challenges.
Anchored by Focus: HOPE—as well as by a number of other high-performing social services agencies, community-based organizations, public institutions, and faith-based organizations—this innovative model of community-campus collaboration will build on the assets of all members in order to enhance learning and knowledge and become a catalyst for accelerating community change that specifically and holistically addresses one of the most pernicious educational inequities of our time. Wilson explains that "working with residents of north-central Detroit has revealed that they regard dismantling the school-to prison pipeline as a central education objective."
The project will support community-based research initiatives that seek to advance equitable educational access, fair discipline, and restorative justice in Detroit's schools, and nurture the socioemotional well-being, learning, and retention of youth most susceptible to expulsion and incarceration.
"Through this project," Wilson said, "we hope to reimagine research and explore what it means to do research in more impactful and democratic ways. How can research help communities in the ways they want to be helped?"
In addition to Wilson, project leaders will include Dr. Richard Smith, a faculty member from Wayne State University School of Social Work, and Jasahn Larsosa, a practitioner-leader from Focus: HOPE. With their guidance, the project will establish and support a cohort of Detroit-based inquiry teams, with a particular focus on the schools and neighborhoods surrounding Focus: HOPE's campus in north-central Detroit.
Each team will consist of (at minimum) one university-based researcher, one community-based practitioner-researcher, and one youth researcher (age 14–19). Meaningfully engaging youth as full research team members is an important component of the project, which seeks to honor youth perspectives. Youth researchers will offer their team valuable expertise about schooling, justice, and learning and living in Detroit and/or its suburbs. Adult team members will facilitate youth research engagement in equitable and age-appropriate ways across the stages of the project.
Through an RFP (Request For Proposal) process, research proposals were solicited from Detroit area colleges, universities, and community-based organizations. The proposals will be reviewed and selected by ULLC members who include university researchers and staff, Detroit community residents, and Detroit community-based organization professionals. The ULLC will work with applicants to find good partners for collaborative inquiry.
Each inquiry team will receive an action research mini-grant that will provide teams with funding for research expenses; stipends for community practitioner-researchers as well as youth researchers; and research development, evaluation, and team-building support. Because of the ongoing COVID-19 pandemic, it is anticipated that—at least in the near term—many of these activities will take place online. ULLC will work to provide online support and facilitate the processes necessary for working and researching remotely.
Teams will participate in research development and team-building events as well as present findings at a ULLC symposium in the Hope Village Community. Toward the end of the two-year study period, each action research team will develop a practical and research-informed resource that will assist at a school community (or a community organization that has close relationships with local schools). Such resources will relate to school improvement, youth and family advocacy, equitable policymaking, and/or strengthening school-family-community partnerships. In addition, Wilson will work to evaluate and study the processes and impact of this research-based collaborative.
"Despite looming challenges, Detroit communities remain positive, resourceful, and proactive," Wilson says. "Young people and their families continue to innovate new ways to enact their agency. This project strives to honor the unique and equally important contributions and expertise that academics, practitioners, and community member partners bring.
"It reflects the central aim of community-based, action-oriented research to disrupt traditional research hierarchy that privileges university researchers and academic expertise," she continued. "Instead, this project is designed to function by democratic norms that center community members' experiential and culturally relevant knowledge, while affirming the value of all partners."