Dr. Charles H.F. Davis III joined the SOE as an Assistant Professor in the Center for the Study of Higher and Postsecondary Education (CSHPE).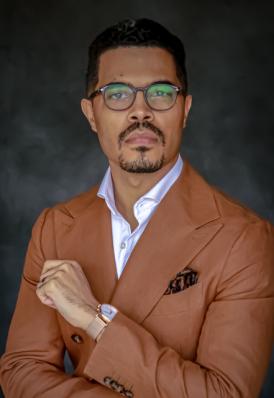 Davis' current research and teaching broadly focus on issues race and racism, systems of oppression, and structures of domination in U.S. higher education and its social contexts. In particular, his ethnographic work examines contemporary student activism at the intersections of campus and community, specifically focusing on the mobilization of resources and tactical repertoires used to achieve movement goals. He has received funding support from the Lumina Foundation, Bill and Melinda Gates Foundation, and the National Center for Institutional Diversity.
In addition to publishing in top peer-reviewed academic journals, Davis recently co-edited Student Activism, Politics, and Campus Climate in Higher Education and hosted and produced a long-form documentary about the structural barriers facing Black youth in education and innovative solutions to support their success. Davis' work has been featured by leading national news outlets, cited in amici curiae briefs in the Fisher v. University of Texas and the SFFA v. Harvard Supreme Court cases, and was recently recognized by Diverse Issues in Higher Education, where he was named a 2020 Emerging Scholar.
Prior to joining the faculty, Davis was an Assistant Professor of Clinical Education in the Rossier School of Education at the University of Southern California and the Chief Strategy Officer and Director of Research of the USC Race and Equity Center. While at USC, Davis was recognized as Faculty Member of the Year by the USC Rossier Postsecondary Administration and Student Affairs Network and Outstanding Faculty Member by the USC Rossier Student Organization.
Davis earned his doctorate in higher education from the University of Arizona, and holds master's degrees from the University of Pennsylvania Graduate School of Education and Florida State University.
Q: What are the two biggest research questions on your mind right now?
CHFD: Given the broader concerns of racial justice movements, particularly around issues of policing and mass incarceration, two interrelated questions are guiding my work. The first attempts to uncover how colleges and universities facilitate to the expansion of policing, state surveillance, and the carceral continuum. The second—because such exercises of power are always met with resistance—seeks to understand the ways campus and community stakeholders are currently organizing to divest from the institution of policing while investing in alternative systems of safety and security. These two lines of inquiry remain largely unaddressed by current higher education scholarship, but demand serious attention. As I argue in two recent essays, the use of university police and deputized actors to (re)enforce boundaries between campus and community through the subjective determination of insiders and outsiders has serious implications for campus racial climate and meaningful 'town and gown' relationships.
Q: In your scholarly research, you have examined the use of digital media in student organizing and social movements. Can you share a finding from that work that you think is broadly applicable to social movements (on campuses or elsewhere)?
CHFD: An important finding from my earlier research is that contemporary student organizers use digital media not in isolation from more traditional, on-the-ground methods of resistance, but as a part of a dynamic interactive process of strategies and tactics. In fact, their use of alternative and activist new media projects facilitates the mobilization of critical resources to achieve their goals, a hallmark concept discussed across decades of social movement scholarship. Although the assumption is that online activism is less effective or legitimate than other forms of direct action, my research refutes that assumption by highlighting how, for example, the media practice of "culture jamming" helps student organizers develop narrative frames for the public to better understand current social and political issues, who is ultimately responsible for creating those issues, and offering actionable solutions.
Q: Outside the academy, what kind of service work are you engaged in?
CHFD: As an engaged scholar, my work is deeply connected to community organizations and people committed to improving the lives of everyday Black people. For that reason, my commitment to supporting the political education and civic participation of Black communities is at the center of what I do outside of academe. In particular, I spend most of my time supporting organizations as part of the Movement for Black Lives, including Black Lives Matter chapters locally and nationally, as well as adjacent organizations like the Scholars for Black Lives (S4BL) collective and BLDPWR in Los Angeles. As director of S4BL, I facilitate relationships between campus and community scholars in the organization of national advocacy campaigns, production of timely research, engagement in public teaching, and creation of contemporary movement archives. As a board member with BLDPWR, founded by actor and advocate Kendrick Sampson, I help advance partnerships between artists, storytellers, grassroots groups, and community activists dedicated to challenging injustice by empowering frontline communities to address issues that affect their lives.