Expansions Vol 1
PILOT is a U-M undergraduate student organization founded in 2010 to bring together diverse students dedicated to leadership development and community building. They aim to make their presence as students of color committed to helping students better navigate and contribute to U-M seen and felt. 

PILOT members, with the support of graduate student mentors from the Marsal Family School of Education, design and execute a range of campus programs and community outreach projects related to social issues, networking, and K-12 school outreach. This past April, PILOT developed the Dreams2Reality event, which involved PILOT members working with regional high school freshman and sophomores to offer college planning assistance, build social and political awareness about current events, and nurture the high school students' sense of empowerment as they contemplate their academic futures.
On the day of the Dreams2Reality event, students from Detroit's Cesar Chavez Academy and Dearborn's Fordson High School visited U-M with transportation that PILOT arranged. The high schools are both highly impacted by poverty and serve a majority of Latina/o and Arab American students, respectively. PILOT members and high school students joined together to engage in activities and workshops related to social identity development and college preparation, the visiting students also toured U-M's central campus and met with University staff and graduate students for a great day of learning and interaction.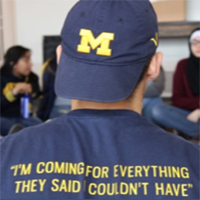 PILOT members plan to build upon the Dreams2Reality event to launch a larger mentoring program in fall 2017 that will involve members working with high school students throughout grades 9-12 and offering peer counseling advice to students. The peer counseling will aim to help students select classes and participate in extracurricular activities and organizations that help them become more competitive U-M undergraduate applicants. 

Stay tuned! For more information about PILOT, see: http://www.pilotumich.com/dreams2reality.html.
MORE FROM Expansions Vol 1
The Marsal Family School of Education is proud to be a leader in the campus-wide initiative promoting Diversity, Inclusion, and Equity. Adding "Justice" to these values underscores the role of educators in the creation of just societies. Through research, public scholarship, community building, and the preparation of education practitioners and policymakers, we articulate and advance our dije agenda.