Organizational Behavior and Management
The Organizational Behavior and Management Doctor of Philosophy in Higher Education program explores the topics of administration, governance, management, leadership, organizational strategy, planning and budgeting, and institutional research and assessment of postsecondary educational organizations. The doctoral program develops scholars and practitioners who will make significant contributions to postsecondary education institutions as administrators and leaders, members of the professoriate, training and development professionals, or expert consultants.
This concentration reinforces the ideas of postsecondary education institutions as complex organizations—contemplating their socio-political, economic, and global context as well as their internal dynamics and functioning. Students are equipped to possess leadership skills and adopt a professional bearing and ethical understanding that distinguishes them in the organizations they lead, the community, and the profession as a whole. Graduates emerge with superior analytical and critical thinking skills that enable them to lead and guide organizations through change by simultaneously visualizing postsecondary education and the organization from the inside and outside.
Students are assigned an academic advisor from among the Center for the Study of Higher and Postsecondary Education (CSHPE) faculty members, based on shared professional interests. Students and advisors work together to develop a plan of study that is appropriate to the student's background and career interests. As students progress, they meet annually with CSHPE faculty, who conduct an academic review of students' progress to ensure all needs are being met.

Additional Certificate and Endorsement Opportunities
Requirements
Courses in the concentration are grouped by three categories:
Internal contexts of postsecondary education
External contexts or environments in which postsecondary education institutions operate
Spanning boundaries between institutions and their external environments
All three categories address the competencies that practitioners need to successfully manage and lead institutions.
Total Credit Hours Required
60
Common curriculum credits
9
Students complete the following courses:
EDUC 622 – Proseminar in Higher Education
EDUC 661 – History of Postsecondary Education
EDUC 899 – PhD Qualifying Paper
In EDUC 622 and 661, students receive a broad overview of postsecondary education from contemporary and historical perspectives. In EDUC 899, students integrate concepts from scholarly literature to answer a question they themselves pose.
Gateway courses introduce students to concentrations and typically serve as prerequisites for advanced studies within concentrations. Students choose from the following courses:
EDUC 761 – Postsecondary Institutions as Complex Organizations (gateway to the Organizational Behavior and Management concentration)
EDUC 764 – Public Policy in Postsecondary Education (gateway to the Public Policy in Postsecondary Education concentration)
EDUC 690 – Academic Affairs and Student Development in Postsecondary Education (gateway to the Academic Affairs and Student Development concentration)
Students complete the following courses:
EDUC 767 – Research Practicum in Higher and Continuing Education
EDUC 793 – Introduction to Quantitative Methods in Educational Research
EDUC 795 – Quantitative Methods for Non-Experimental Research (or an equivalent statistics course)
A course in qualitative methods
An advanced methods course for dissertation-related research
Students complete a minimum of 12 credits in concentration courses chosen in consultation with faculty advisers.
Students complete a minimum of 6 cognate credits in courses, chosen in consultation with faculty advisers, outside their area of study but connected in some way to it. Credits from graduate degree courses outside the Marsal School may be used to fulfill the cognate requirement, with approval from faculty advisers.
Students choose elective courses as needed to fulfill the 60-credit requirement. Students may choose electives that exceed the gateway, research, concentration, or cognate minimum requirements. Electives may be offerings from or outside of the Marsal School.
Dissertation, precandidacy, and candidacy credits
Students complete the following courses:
EDUC 990 – Dissertation Pre-Candidacy
EDUC 995 – Dissertation Candidacy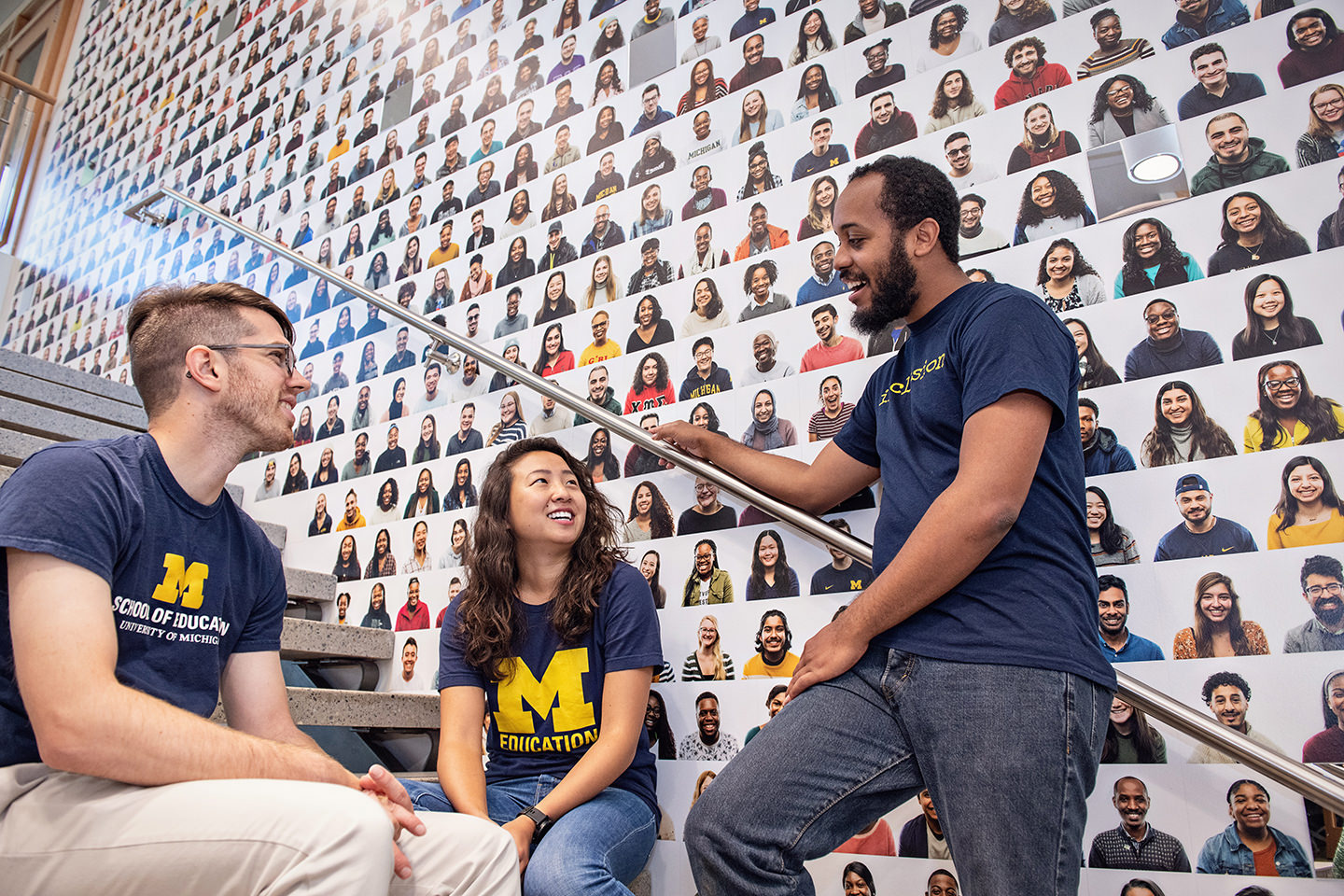 Discover more offerings from CSHPE
The Center for the Study of Postsecondary and Higher Education
Connect with CSHPE
Location
610 E. University Avenue
Room 2117
Ann Arbor, Michigan 48109-1259
Office Hours
Monday–Friday
8:00 a.m.–5:00 p.m.
Application Process
Step 1: Prepare your application materials
To submit a successful application for admission, you need to provide the following:
Academic Statement of Purpose

The Academic Statement of Purpose should be a concise statement about your academic and research background, your career goals, and your reasons for applying to this degree program. Please be specific in explaining how the course offerings and faculty expertise of this program fit your educational and career objectives. Please mention if you are interested in attending part-time. We are also interested in how you learned about our program. Two double-spaced pages is considered a good length.
Part-Time Admission: Applicants seeking admission to a master's program may attend on a part-time basis. Please indicate this in your Academic Statement of Purpose.

Personal Statement

500 word limit
How have your background and life experiences, including cultural, geographical, financial, educational or other opportunities or challenges, motivated your decision to pursue a graduate degree at the University of Michigan? For example, if you grew up in a community where educational, cultural, or other opportunities were either especially plentiful or especially lacking, you might discuss the impact this had on your development and interests. This should be a discussion of the journey that has led to your decision to seek a graduate degree. Please do not repeat your Academic Statement of Purpose.

Three (3) letters of recommendation

We strongly encourage two of your letters come from individuals who are familiar with your academic performance. The third may be from a professional reference.
Register your recommenders' names and contact information on the online application so that they will be sent instructions for submitting their letters via the application system. Let your recommenders know that they need to upload a letter and that it is required by the program.
As soon as you click "save" on the page of the application where your recommenders' contact information is entered, they will receive an email with instructions for completing the process. Proceed to this point in the application process as soon as possible to trigger that email.

Resume or CV
Test Scores (See test details in Step 5 below) 

English proficiency scores (for non-native speakers of English only)
GRE Test Scores are not required for admission
Step 2: Create an ApplyWeb account, managed by Rackham Graduate School
Create an account with Rackham Graduate School.
This program, like all of the Marsal Family School of Education's graduate programs, is administered through the University of Michigan's Horace H. Rackham School of Graduate Studies. Rackham offers a host of resources and administrative support to help see you through from submitting your application to completion of your degree.
Step 3: Complete pages 1-5 of application using ApplyWeb
After completing page 5 of the application, you will receive an e-mail with your U-M ID. A U-M ID number will be issued to you via email within 5 business days of completing pages 1-5 and advancing to page 6 of the ApplyWeb application. Having your U-M ID number to include on all your application materials ensures accurate and timely processing, so we encourage you to complete pages 1-5 early in the process.
If you need to submit your application before you receive your U-M ID number, you may still complete the application. Include your date of birth and the program's name on your application materials.
Current and former U-M Ann Arbor students, alumni and employees: You do not need to obtain a new U-M ID number. Use your previously obtained U-M ID number.
If your personal information has changed (for example, legal name, gender), make sure the personal information you submit with your application matches your previous Ann Arbor campus record. If your previous Ann Arbor campus record does not display your current personal information, contact the Registrar's Office or the Shared Services Center to change your personal information before you apply.
Step 4: Upload academic statement of purpose, the personal statement, and a curriculum vitae (CV) or resume to the ApplyWeb application
Include at the top of each document:
The type of document (Academic Statement of Purpose, Personal Statement, or Curriculum Vitae or Resume)
Your name
The name of the graduate program
Your 8 digit U-M ID (if known)
Make sure margins are at least one-inch so nothing is cropped when you upload the documents to the application.
Step 5: Submit test scores
TOEFL, MELAB, ECPE, or IELTS scores (for non-native speakers of English only; valid 2 years from test date)
GRE Test Scores

GRE test scores are not required for admission, but scores (valid 5 years from test date) can be included with your application.
Provide ETS with the U-M Institutional Code of 1839 and your scores will be sent directly to the university.

Test scores must be sent directly from the testing center to the Rackham Graduate School. We recommend starting this process early as it can take up to two weeks for the scores to be received. 
Step 6: Submit transcripts
Upload an electronic version of your official transcript(s) for each Bachelor's, Master's, Professional, or Doctoral degree earned or in progress through your ApplyWeb application account (part of the Rackham application system). Do not upload academic records printed from your school's website or student portal.
You are not required to send official transcripts at the time of application. If you are recommended for admission, the Rackham Graduate School will require official transcripts. Admitted applicants will receive an email notification when the official transcripts are required.
Students who have studied in a country outside of the U.S. should review the required credentials from non-U.S. institutions. For all degrees obtained at non-U.S. institutions—Request that degree-granting institutions submit official transcripts/records to the Rackham Graduate School at the time of application.
Information for submitting official transcripts can be found on the Rackham Graduate School website.
Step 7: Check that letters of recommendation have been submitted
Check the status of your letters of recommendation, change a recommender, or resend the notification email to your recommender using the ApplyWeb Activity Page
Please reach out to marsal.admissions@umich.edu if there are any questions regarding the submission of the letters of recommendation.
Step 8: Create a U-M Friend Account
Step 9: Respond to admission offer
If you have been accepted, congratulations! You may accept or decline the offer of admission in your U-M Friend Account.
For international students that accept offer of admission, Rackham prepares immigration documents for visas.
Contact us
For questions regarding the master's or doctoral program application in Higher Education:
For questions regarding tuition, scholarships, financial aid, & residency:
For general questions regarding the master's or doctoral program in Higher Education:
Quick Facts
GRE general exam scores
Not required
Prior master's degree
Not required
Undergraduate GPA guideline
3.0
Guideline for previous two years of coursework on a 4-point scale
Graduate GPA guideline
3.3
Guideline on a 4-point scale
Online, evening, or weekend courses
Not available
Connect with CSHPE
Location
610 E. University Avenue
Room 2117
Ann Arbor, Michigan 48109-1259
Office Hours
Monday–Friday
8:00 a.m.–5:00 p.m.
Careers
100%
of known graduates found full-time employment in the field of education
100%
of known graduates are highly satisfied or satisfied with their current position
$92K
average starting salary