May 11, 2022
Mott Children's Hospital doctor partners with P-20 to provide access to safety event.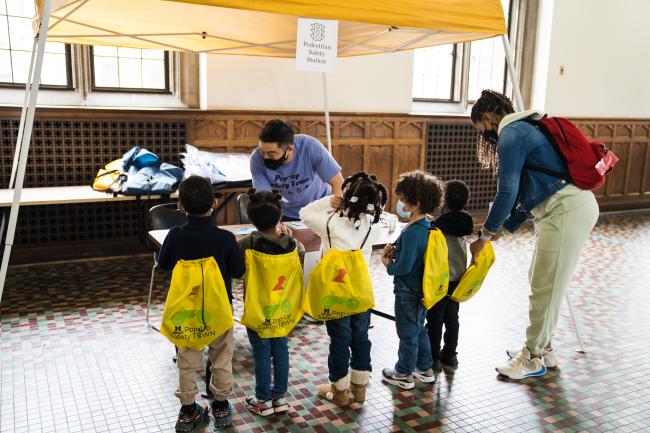 As a pediatric emergency medicine physician, Dr. Andy Hashikawa knows all too well the safety hazards children encounter on a regular basis. Safety Town, a safety education program for young learners, was founded in 1937 and has been adapted in cities and towns across the country. However Hashikawa noticed that it wasn't as widely available—if at all—in underserved communities. 
"As funding has decreased, there have been a lot of disparities," says Hashikawa. "The affluent school districts are the ones that are able to afford it. When I would talk to folks from Flint or Detroit, they had never heard of it. One of the things I wanted to do was bring the idea and concepts from Safety Town and bring a mobile "pop-up" version of Safety Town to these high needs areas."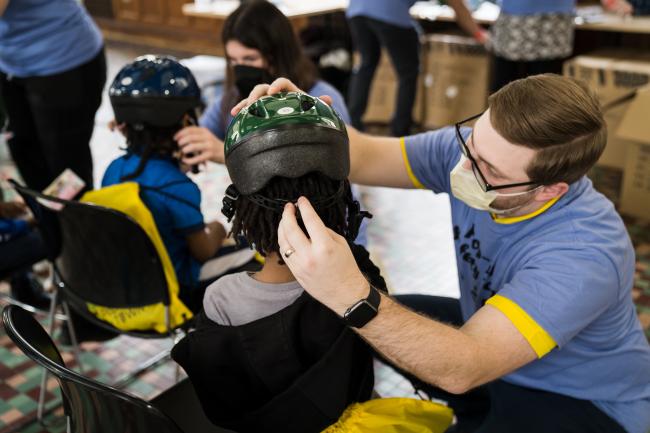 By working with Head Start programs, the doctor aims to make access to learning about safe behavior equitable with his program, Pop-Up Safety Town. When looking for schools to partner with, he seeks local experts and groups that are well-connected in their communities. Over the course of three days in March, Hashikawa worked with the Detroit P-20 Partnership to host a Pop-Up Safety Town event on the Marygrove campus. The event introduced preschool-aged children to pedestrian, medication, booster and car seat, and dental safety, as well as dog-bite prevention, and other lessons on how they can protect themselves. 

"One of the things we do is helmet safety. We found, based on our previous research, a lot of kids don't even have helmets. So they'll have scooters and tricycles, and these new bikes that they're learning how to ride, but they don't wear helmets," says Hashikawa. With a gift from AAA Auto Group and a grant from the Michigan Health Endowment Fund, Hashikawa's team was able to provide adjustable bike helmets which were fitted for students at the fair. As they grow, the helmets can be adjusted to accommodate their needs. "It's the upstream approach," says Hashikawa. "If we can get them comfortable early, later on in life—when they're 7, 8, 9—they're less resistant to wearing a helmet because they're used to it."
Many of the Pop-Up Safety Town activities were led by U-M student volunteers. Volunteers also came from the U-M School of Dentistry's Dental Hygiene program to teach kids about protecting their teeth. Kids enjoyed features like child-sized pop-up buildings and a U-M themed streetscape where they could ride bikes with their new helmets on. A game that taught medication safety challenged children to tell the difference between a pill and a piece of candy. In addition to a helmet, each young attendee took home a bag full of giveaways to continue practicing safe behavior, including a book, a toothbrush, and more.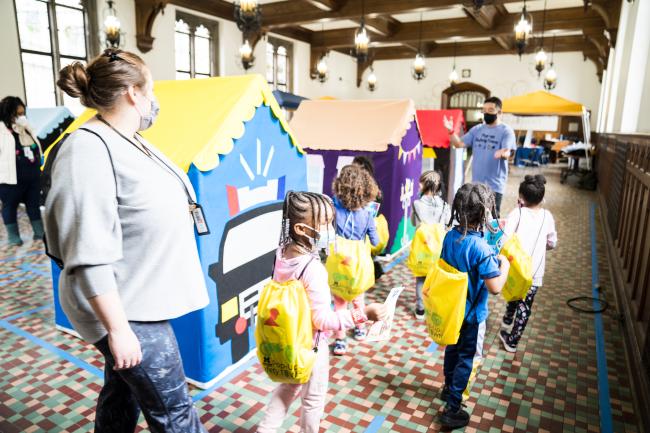 It was the very first field trip for preschool children from the Marygrove Early Education Center, who had the opportunity to attend the Pop-up with their teachers on March 8. Over the next two days, the event welcomed children and parents from Focus: HOPE's nearby early learning facilities and other local childcare centers. In total, about 200 children attended the three-day event, along with over 100 family members and caregivers.
The Pop-Up Safety Town at Marygrove was a year in the making, notes Dr. Stephanie Moore, who works for the U-M School of Education as the Detroit P-20 Child and Family Support Services Coordinator, and the partnerships that made it possible came from every direction. Starfish Family Services set up a table to talk about enrollment at the Marygrove Early Education Center, and families with older children received information from Detroit Public Schools Community District about elementary enrollment at The School at Marygrove. The Marygrove Conservancy generously provided space to host the event. Farmacy Food and Moon Reflections Photography, both tenants at the Conservancy, provided healthy meals and captured images of all the activity. The U-M School of Dentistry joined the festivities to teach students how to protect their teeth, and students from the School of Public Health were among the many volunteers who helped ensure everything ran smoothly. 
"It was a really collaborative effort," says Moore, "and a great example of diverse groups coming together to create a positive event for children and families​​." Both she and Hashikawa have high hopes that Pop-Up Safety Town will become an annual event that will serve the community for many years to come.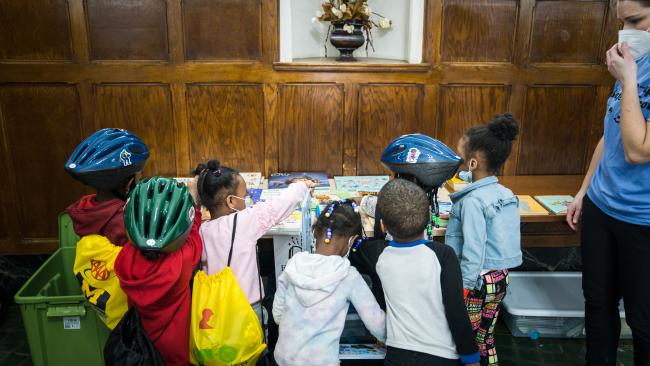 Featured in this Article