December 01, 2020
As educators in the city of Detroit, Lexis Zeidan (MA '17) and Dayna Peoples recognize the role of young people in the fight for racial justice. In an effort to empower and support Detroit youth, Zeidan and Peoples founded Detroit Kids Matter (DKM). DKM partners with and sponsors local nonprofits and organizations that motivate and inspire youth to be their personal best through every opportunity and challenge.

Currently, Zeidan and Peoples sponsor youth organizations through sales of their clothing brand. They plan to expand their scope to feature Detroit youth inspired products on their blog page, offer tutoring services, and provide consulting services for Detroit youth who want to start their own business.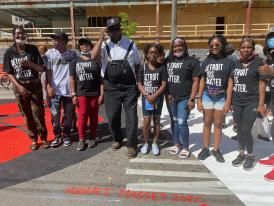 An important aspect of their mission is to continue building meaningful partnerships with businesses and organizations in the Detroit area that support and advance Detroit youth. DKM is currently an online business with occasional pop-ups. 

Zeidan is a certified educator/administrator, currently serving as an Intervention Coordinator for a charter school district in Detroit. She received her Bachelor's degree in communication from Michigan State University. After teaching for a few years she went on to complete her Master's at the University of Michigan School of Education in Educational Leadership and Policy. She is a current student at the Ross School of Business working to receive her Master's in Business Administration.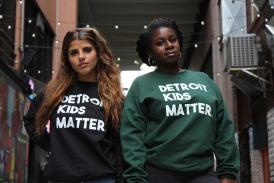 Peoples is a certified educator in the city of Detroit, currently serving as an administrator at a charter school in SW Detroit. She received her Bachelor's of Science in Elementary Education, with a concentration in Mathematics, from Wayne State University in 2011. After completing her graduate program in the College of Education, she received her Master's of Education in Reading, Language and Literature in 2016. 
More News
August 20, 2020
In an article, Camille Wilson explains that the trauma of slavery has always shaped the way Black women parent and organize.
August 20, 2020
Kaelyn Walker shares her perspective on the community and curriculum at the Detroit public high school launched in partnerhsip with the SOE.
May 11, 2020
Professor Susan Dynarski wrote an article for The New York Times which acknowledged that school children are struggling to learn under increasingly challenging conditions that negatively impact their learning.