April 19, 2022
Before a panel of judges, five finalists presented digital tools with the potential to significantly improve student learning. Launched in 2016, the James A. Kelly Learning Lever Prize is a competition designed to encourage University of Michigan students to be education innovators. This year's participants include students in bachelor's, master's, and doctoral programs​ across the university.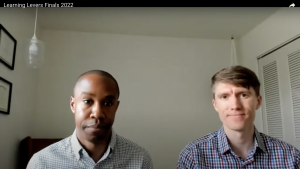 Carl Haynes-Magyar (SOI) and Nathan Haynes-Magyar (AB '13, BFA '13, MSI '18), developers of Codespec, were awarded the James A. Kelly Learning Lever Prize for their adaptable and adaptive computer programming practice environment built on the principles of inclusion, diversity, equity, accessibility, and sexual orientation and gender identity awareness. Codespec is designed to provide novice programmers—9th grade and up—with an experience that allows them to try many ways to solve a problem.  
In addition to the James A. Kelly Learning Lever Prize of $10,000, judges awarded four development awards: 
Bubble! Learn Science is a free, interactive mobile app designed to expand access to academic research by teaching students how to read scientific research articles.
Team: Rafee Mirza (LSA)
$1,000
Wellos is a health simulation game that allows students to explore health scenarios by creating characters and experimenting with real-life decisions and outcomes. 
Team: Emmy Thompson (SOI) and Edith Zhang (SOI)
$2,000
Evolve is a career exploration platform for teenagers that allows teens to access information, mentorship, and practical experience. 
Team: Shivani Gandhi (SOE), Sushmitha Rao (SOI), and Lizbeth Guerrero (SOI)
$4,000
Everstory is a big history learning app for young students to explore their own social studies interests. 
Team: Garret Potter (SOE/SOI)
$4,000
In her welcome remarks, SOE Dean Elizabeth Birr Moje addressed the presenters: "Each of your designs is timely, inventive and informed, and demonstrates your commitment to improving student learning outcomes for all individuals."
Moje and the staff from CEDER who supported the students in the program were joined by four expert judges: 
Catalina Kaiyoorawongs (AM '19, MBA '19), Co-founder/CEO, LoanSense 
Brenda Said-Wright, Director of Instruction and Intervention, Riverflow Community School; Owner, Great Lakes Educational Group 
Brian Spector (BBA '94), Executive Chairman, Reflow Medical 
Henry Tong (BBA '91), Past Chairman, Hong Kong Committee on Home-School Cooperation
The Learning Levers Program runs each year from October through April with proposals accepted in March each year. You can learn more about the program at soe.umich.edu/learning-levers.