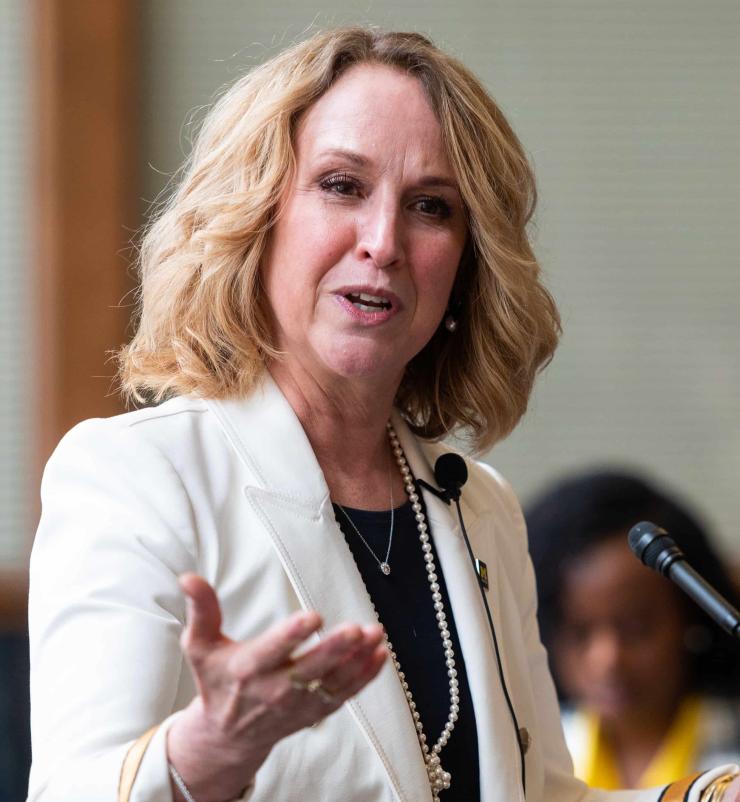 Dean's Letter
We have many accomplishments to celebrate, important milestones to mark, and momentous news to share with you in this issue of Michigan Education.
In February, the family of Kathleen and Bryan Marsal and their children, Megan Marsal Kirsch and Michael Marsal, committed a historic and transformative gift of $50 million to the school. To honor this commitment, the Regents of the University of Michigan voted to recognize the Marsal family's service and cumulative giving of over $55 million by naming the school in their honor: The Marsal Family School of Education (Marsal Education, for short).
With two generations of education alumni in the family, the Marsals have long been advocating for our mission and vision while generously creating opportunities through their giving. They are passionate about our community's role in meeting the urgent need for highly qualified educators, designing just and equitable systems of education, and producing widely accessible research that informs policy and practice.
Over the next several years, the Marsals' recent gift will help us recruit and prepare teachers, launch a new undergraduate degree program, and expand our partnerships with public schools, especially our Detroit P-20 Partnership at Marygrove—efforts the Marsals have championed for years. Most of their gift will be invested in the university's endowment, which means that 98 years from now—in 2121, when the school celebrates its bicentennial—this gift will continue to be a major resource pillar supporting the students and initiatives of a school we cannot yet imagine.
We received more exciting news this year when U.S. News & World Report released the 2023–24 ranking of the best education schools, ranking the Marsal Family School of Education #1 in the nation. Additionally, all Marsal programs for which U.S. News & World Report establishes specialty area rankings are in the top 10. We are particularly honored to be recognized by our peers in the survey that contributes to the rankings. Many of the attributes that are meaningful to our faculty, staff, students, alumni, and partners—such as our engagement with public scholarship and our commitment to diversity, inclusion, justice, and equity—are not explicitly represented in the ranking process. Nevertheless, they are qualities that distinguish us and that attract dedicated students from around the world, which has an overall impact on the rankings.
This spring, we reached a joyous milestone as the first class of seniors from The School at Marygrove (TSM) graduated. The Marygrove Learning Community is vibrant as children and youth fill the Early Education Center and the elementary and high schools. As those schools have grown, so has the Michigan Education Teaching School. This past year, our first teaching resident to complete the three-year program became the Chief of Residents; in addition, seven teaching residents worked on the campus as full-time, certified teachers (including the first elementary teaching residents), and teaching interns had new opportunities for embedded teacher education. The implementation and growth of the teaching school model is a credit to the attending teachers, mentors, residents, and interns at Maygrove who are dedicated to both children's rich and robust learning and to shaping this new approach to teacher preparation. Also worth noting: TSM Elementary has a waiting list for every grade level (K-3) in the 2023–2024 school year!
The Marygrove community will continue to grow as U-M first-year students join the campus in 2024 as part of the Bachelor of Arts in Education program called Learning, Equity, and Problem-Solving for the Public Good, or LEAPS. By combining innovative coursework with engaged real-world and project-based experiences, LEAPS students will gain an understanding of how people and communities learn. Students will apply this knowledge in hands-on settings to promote collaboration, develop innovative solutions, and make real-world contributions to the ongoing work of partners across Detroit. If you know a first-year student interested in education—either in teaching or in other dimensions of education—please send them to our website.
The Marsal Education community is proud to honor Alicia Cortez and Laura Rendon as Distinguished Alumni Award recipients and Jessica Cañas as this year's Emerging Leader Alumni Award recipient. These three alumnae share how their professional commitment to education access grew out of personal experiences that informed how they recognized and worked to ameliorate opportunity gaps for students and communities.
In the fall, we celebrated the launch of a full-day, open educational resource curriculum for children from birth through age eight called Great First Eight. Over the course of several years and with significant grant support, Dr. Nell Duke convened a diverse group of national experts to create this research- and standards-aligned curriculum designed specifically for use in classrooms that serve children from historically underrepresented racial and ethnic groups. (The curriculum is in use at the Marygrove Early Education Center.)
We are beyond grateful to the donors who support our students, faculty, and initiatives across the school. We are pleased to share some of their stories in each issue of Michigan Education. As dean, it is my privilege to speak directly with the people, families, and organizations who invest in us. I am invariably inspired by the personal motivation behind giving.
As we build on the tremendous momentum of the past year, we look forward to seeing new efforts come to fruition. With the dedication and creativity of the Marsal Education community, the brilliance of our partners, and the generous investment of our supporters, we are a highly dynamic school moving urgently and conscientiously where the greatest challenges in education take us.
Elizabeth Birr Moje
Dean