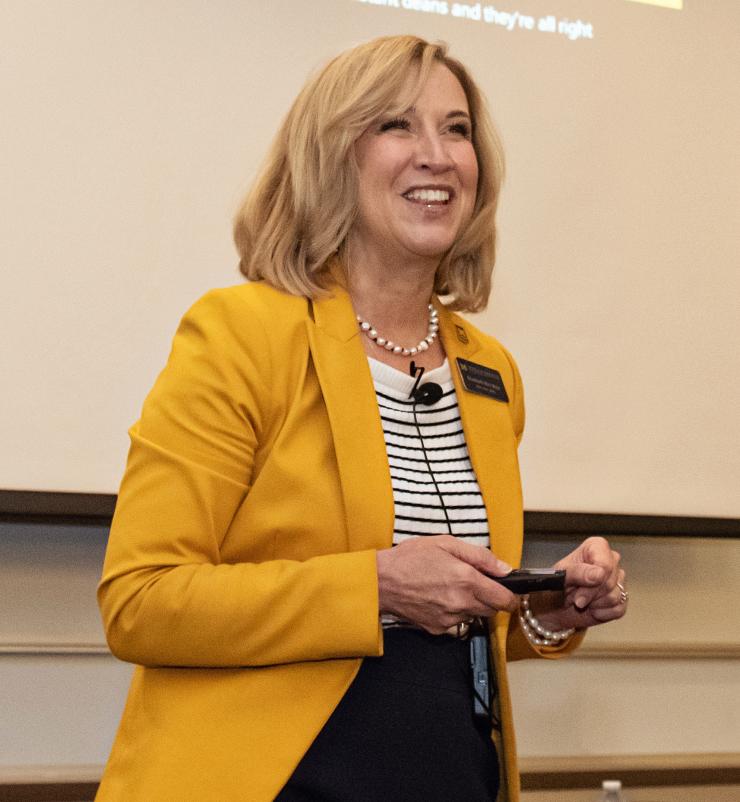 Dean's Letter
We hear a lot about improving education and that's an admirable goal, but is it enough? Small, measured improvements are valuable, but the University of Michigan Marsal Family School of Education recognizes that the way forward lies in transformation.
Sometimes, transformation requires us to disrupt—to challenge taken-for-granted practices and policies that don't serve to build equitable and just systems. It takes boldness, cooperation, and a propensity to step out of the familiar to pursue the extraordinary.
This issue of Michigan Education is dedicated to those who disrupt so that they may transform education systems, practice, and policies. We share some of their stories with the knowledge that hundreds—perhaps thousands—within our community have their own stories of disrupting to transform.
I'm pleased to introduce five outstanding new faculty members who joined our community this fall. Drs. Kara Finnigan, Jennifer Randall, Chris Torres, Jeremy Wright-Kim, and Ying Xu drive transformation in exciting ways, each using their scholarship and teaching to further education justice.
This summer, the National Center for Institutional Diversity awarded research grants to 27 U-M graduate students to support research focused on racial equity and justice. We are proud that seven of the recipients are Marsal School students. Their research questions challenge assumptions, approach questions from new perspectives, and center the experiences of racially minoritized learners. With four of the seven grantees pursuing their doctoral degrees in higher education, these studies will inform college and university practices, beginning on our own campus.
One of the most exciting programs for encouraging our students to think creatively and expansively about education tools is the James A. Kelly Learning Lever Prize. Mr. Garret Potter, a dual degree master's student in the Marsal Family School of Education and the School of Information, is one of this year's development award winners for his product, Everstory. Potter saw an eagerness among his kindergarten students to freely explore all the places and things that interested them, but they were limited by their inability to read fluently. He started creating an encyclopedic exploration environment relying on audio and visual materials for early learners. Potter has now received other awards for his project and is launching it with the help of several other Marsal School students.
Sometimes disruption is an intentional act, but at other times, we must navigate unexpected and challenging disruptions, such as those caused by the COVID-19 pandemic. It is still incumbent upon us to cultivate opportunities in the wake of unplanned disruptions. Marsal School research teams leaped into action to start studying the educational impacts of the pandemic. In this issue of Michigan Education, we hear from three faculty members who work at the intersection of education and policymaking. Drs. Christina Weiland, Kevin Stange, and Brian Jacob share findings from their work on early childhood education programs, district and administrator decision making, and parental choices.
The COVID-19 pandemic forced many educators, students, and families to quickly adopt new technologies. Although this isn't the ideal situation for integrating learning technologies, it does allow researchers who are paying attention to analyze the benefits and drawbacks of each platform. Since 2016, Dr. Vilma Mesa and her research team have been exploring the use of open-source mathematics textbooks available online for their potential to help instructors become aware of—and responsive to—the needs of students. By studying the ways that students and instructors use free open-source textbooks and introducing new capabilities, she is changing the way we think about teaching postsecondary mathematics.
At The School at Marygrove, teachers (including interns and residents in the Michigan Education Teaching School) are creating spaces for children and youth to share their ideas for the future of Detroit. As the capstone project in the high school economics class, lead teacher Mr. Brandon Moss and student teacher Mr. Hunter Janness asked students to explore how Detroit's economy could grow in ways that are just and equitable. Applying their understanding of economic concepts, students researched topics from transportation and housing to incarceration and air quality, which they presented to Detroit City Councilmember Angela Whitfield Calloway.
Our Center for the Study of Higher and Postsecondary Education continues to shape the field with a first-of-its-kind center focused on admissions practices. The Michigan Admissions Collaboratory, created by Dr. Michael Bastedo, will convene scholars around the world examining issues of college access, admissions transparency and corruption, and holistic admissions practices. This initiative comes at an interesting time for postsecondary education in the wake of admissions scandals, the movement for test-blind and test-optional admissions, and changes to the higher education landscape brought about by COVID-19 and economic circumstances. We look forward to engaging an international group of colleagues in the coming years.
As always, I am eager to share news of new scholarships and academic funds that have been established in the past several months by donors who generously support our community and mission. Their contributions bring our visions within reach and shape the experience of being at the Marsal School.
Please enjoy this issue of Michigan Education, fellow disruptors! Together, I know we won't stop at small-scale improvement when educators and learners deserve systems transformation. Go Blue!
Elizabeth Birr Moje
Dean