Event
12:30-2:00 p.m. - Reception to directly follow, 2:00-3:00 p.m.
Social Change in Action - How to be a Change Agent in a World That Feels Out of Control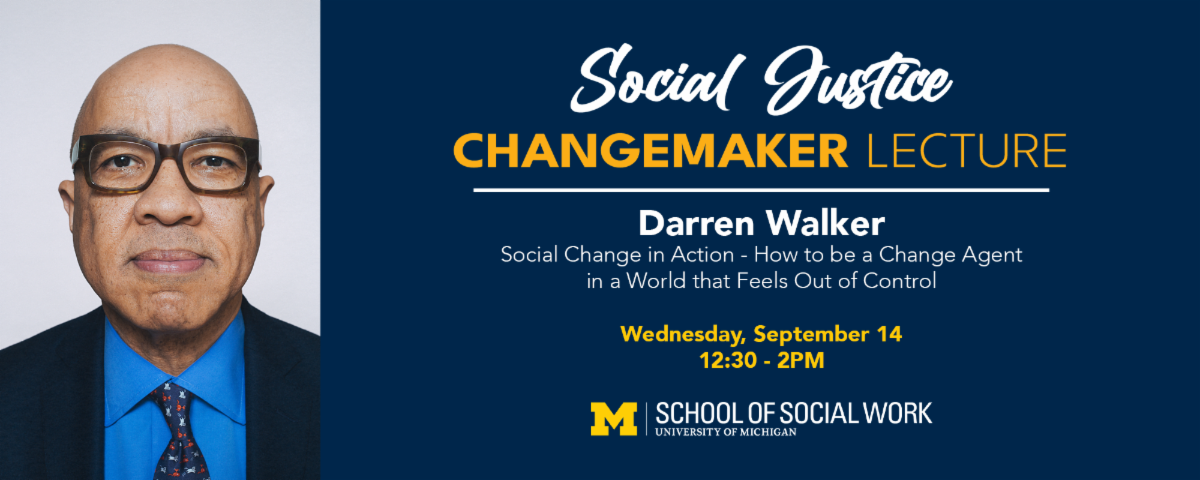 Join us for a discussion between the leaders of top social justice organizations  as they explore ways to become a social justice change agent during challenging times. 
Darren Walker
President of the Ford Foundation
Beth Angell
Dean of the U-M School of Social Work
The Ford Foundation is an independent organization working to address inequality and build a future grounded in justice.
For more than 85 years, it has supported visionaries on the frontlines of social change worldwide, guided by its mission to strengthen democratic values, reduce poverty and injustice, promote international cooperation, and advance human achievement. Today, with an endowment of $16 billion, the foundation has headquarters in New York and 10 regional offices across Africa, Asia, Latin America, and the Middle East.
Michigan Social Work seeks to develop a more equitable, caring, and socially just society. Such a society meets basic human needs, eliminates social and economic inequities, and empowers individuals, their communities, and institutions to reach their aspirations and potential. The School is dedicated to education, research, and service that fosters progressive change at local, national, and global levels.
For 100 years, Michigan Social Work has been at the forefront of educating social work leaders, today serving as the #1 school of social work in the nation.
Social Justice Changemaker Lecture Series
The Social Justice Changemaker Lecture series was established by a generous gift from Neil and Annmarie Hawkins and focuses on important global social justice issues including race and nationality, immigration and refugees, income inequality, gender identity and sexual orientation, education, health, and mental and physical abilities.
1.5 Regular CE Hours approved for in person attendance only