The University's First Black Professor / The School's First Assistant Dean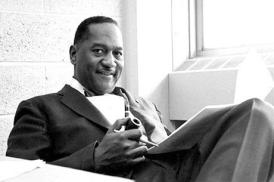 The man on the other side of the phone half-way across the world offered him a job he could not pass up. So he took it. They had never met face to face.
"I don't think anybody said, "You know, he is a Negro." I don't think so. They may have, but I don't know it. So when I got the invitation to join the faculty, I immediately responded in favor of it," Dr. Alvin Demar Loving Sr. told an interviewer in 1988.
Dr. Loving, who is remembered as the first Black teacher in Detroit public schools, ultimately served as assistant dean of the School of Education. However, his career at U-M began that day in 1956 when he accepted an offer over the phone to serve as one of the 16 founding faculty members, and the only African American, of the new Flint campus.
As an associate professor at UM-Flint, he was in charge of teacher education for more than 400 students. "I had most of the students at the university, which was a good experience for them and for me. They were wonderful. They had no questions about me, because I was there to give them what they needed," said Dr. Loving. The Alvin Loving Sr. Cultural Lounge, located on the second floor of U-M Flint's University Center, is named after him and is designed to provide a multicultural environment for all students.
From 1960-1966, Dr. Loving was granted leave to travel to Nigeria and help establish the University of Nigeria. He also continued his travels to India with his wife Mary Helen Greene, a quilter, and their three children: Alvin, Pamela Yvonne, and Paul. His son, Alvin Demar Loving Jr., became a prominent abstract and collage artist. Loving Jr. received his earliest instruction in art from his father, who once worked as a sign painter and took formal art classes. As a young boy Alvin Loving Jr. would be tasked by his father to recreate the paintings he himself submitted as coursework.
In 1969, Dr. Loving joined the School of Education's Executive Committee at the request of Dean Willard C. Olson. A year later, he became the first African American to earn full professorship at the university. The newly appointed Dean of the School of Education, Wilbur J. Cohen, named Dr. Loving as assistant dean of the school that same year. During Dr. Loving's tenure, urban education became a central theme and the school expanded teacher training to the inner city.
A man of numerous personal and professional contributions, Dr. Loving will probably best be remembered in his own words, "I mean, all these firsts."
Source: Quotes from Dr. Loving selected from February 26, 2014 article by UM-Flint News