A Spirited Black Woman in a White World

I SAW MY FUTURE THROUGH THE GLASS

Sitting there at the counter, savoring the sweetest
concoction ever
Boy did I think I was smart, cute and clever?
I was on top of the world; a mocha chocolate
Brown-eyed little girl.
I wanted to linger, not eat too fast;
until I looked to the right and saw the glass!
—Sherry Harvey-Tuley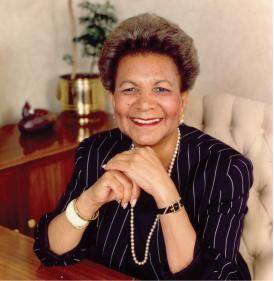 As a ten-year-old girl growing up in Ann Arbor, Dr. Gwendolyn Calvert Baker set her sights on eating an ice cream at a drug store counter downtown, a "big girl" move. What she could not have anticipated was that in accomplishing her goal she would be transformed from a determined little girl into a self-proclaimed "spirited Black woman in a white world."
Having saved up 15 cents to order her own hot fudge sundae, Baker ordered her first ever hot fudge sundae from the counter at Crippen's Drug Store in downtown Ann Arbor. Two scoops of vanilla, thick chocolate sauce, and a cherry in a white paper cup. Before she took her second mouthful, however, she noticed a young White girl about her age at the other end of the counter. This girl's sundae was topped with strawberries rather than fudge. It was also served in an impeccable glass dish.
"For some reason, though I continued to eat my sundae, it did not taste the same...At that moment, nothing seemed the same. My world began to change almost immediately. I grew up in minutes, in hours. My second glance at the world I loved and felt so comfortable in had changed me forever. My life became a battlefront. I was determined to show the world that I was as good as any white girl. Whatever I had to do to achieve this would be my claim to the future."
Baker credited this experience as the moment she began really thinking about race and racism. She would go on to be a nationally recognized educator, an international leader of multicultural education, and an activist on issues related to children and women. Baker graduated cum laude from Ann Arbor High School and went on to receive three degrees from the University of Michigan (ABEd '64, AM '68, PhD '72). She began her career as a teacher in Ann Arbor Public Schools. She then served as a U-M instructor, associate professor, and eventually Director of Affirmative Action Programs. Baker lectured nationwide and assumed several prominent positions, including National Executive Director of the YWCA; a member of the New York School Board; and president and CEO of United Nations International Children's Emergency Fund (UNICEF).
Reflecting on her distinguished career in her memoir, Hot Fudge Sundae in a White Paper Cup: A Spirited Black Woman in a White World, she attributes her success to growing up in Ann Arbor and the experiences afforded to her by the University of Michigan.
"Not only are my experiences strongly tied to my relationship with the University of Michigan, but my career clearly represents my education and exposure to experiences at this institution," she wrote.