Master of Arts in Higher Education and Master of Public Policy (Dual Degree)
The Master of Arts in Higher Education and Master of Public Policy program is designed for students interested in broad policy issues that affect higher and postsecondary education, such as state governance and coordination, financial aid funding, and affirmative action in admissions and hiring. 
You will learn to generate and apply knowledge to advance the role of higher education in supporting the public good and improving institutional practice. The coursework and other experiences help to increase understanding of higher education as an academic area of inquiry and practice. Students are prepared for administrative, faculty, research, and policy careers in higher education and related enterprises.
Students take coursework in both f the Gerald R. Ford School of Public Policy and the Marsal Family School of Education and benefit from the interaction among students with different professional backgrounds and diverse career goals. Students come to appreciate and understand the multiple frames of reference that may have an impact on higher education decision-making.
You will be paired with an advisor from among the Center for the Study of Higher and Postsecondary Education (CSHPE) faculty members, based on shared professional interests. Students and advisors work together to develop a plan of study that is appropriate to the student's background and career interests. They also work closely with an advisor in the Gerald R. Ford School.
Want to learn more about the program?
See our upcoming information sessions
Additional certificate and endorsement opportunities
Learning Experience Design Certificate
Requirements
The curriculum below pertains to students entering the master's program in Fall 2021 and later. Please refer to the intranet to review your degree requirements if you began prior to Fall 2021.
Minimum credits required / Marsal School credits required
65 / 27
Marsal School core credits
11
Students complete a minimum of 6 credits:
EDUC 561 – Introduction to Higher Education (3 credits)
Diversity foundations course (3 credits)
Students complete one course from the list below. A selection of these courses will be offered each term:

Another course in the Higher Education program, approved by an advisor and the director

Research methods course (5 credits)
Marsal School concentration credits
15
Students complete a minimum of 15 credits from the list of courses below, in addition to their diversity foundations course.
If more than one diversity foundations course is taken, the additional course(s) will be considered a concentration course in Higher Education, after the diversity foundations requirement is fulfilled.
A selection of these courses will be offered each term:
Other courses in the Higher Education program, approved by an advisor
Students complete up to three credits in elective courses approved by an advisor (may be inside or outside the Higher Education program).
This required, two-semester internship offers students opportunities to build skills in a particular functional area. Internship experiences help to develop professional networks and knowledge of professional work environments that facilitate career success upon graduation.
Students must register for an additional 6 credits in either program.
Gerald R. Ford School of Public Policy credits
32
See the Ford School's dual degree requirements
Credits in introductory research methodology, advanced-level policy beyond the core, and cognates may satisfy requirements for both schools. When a core course is waived, students must take another course in the school that waived the requirement (e.g., if a student waives two courses from the Marsal School, they must complete two different courses in the Marsal School—not in the School of Public Policy—that contribute to the Marsal School's 27-credit minimum requirement).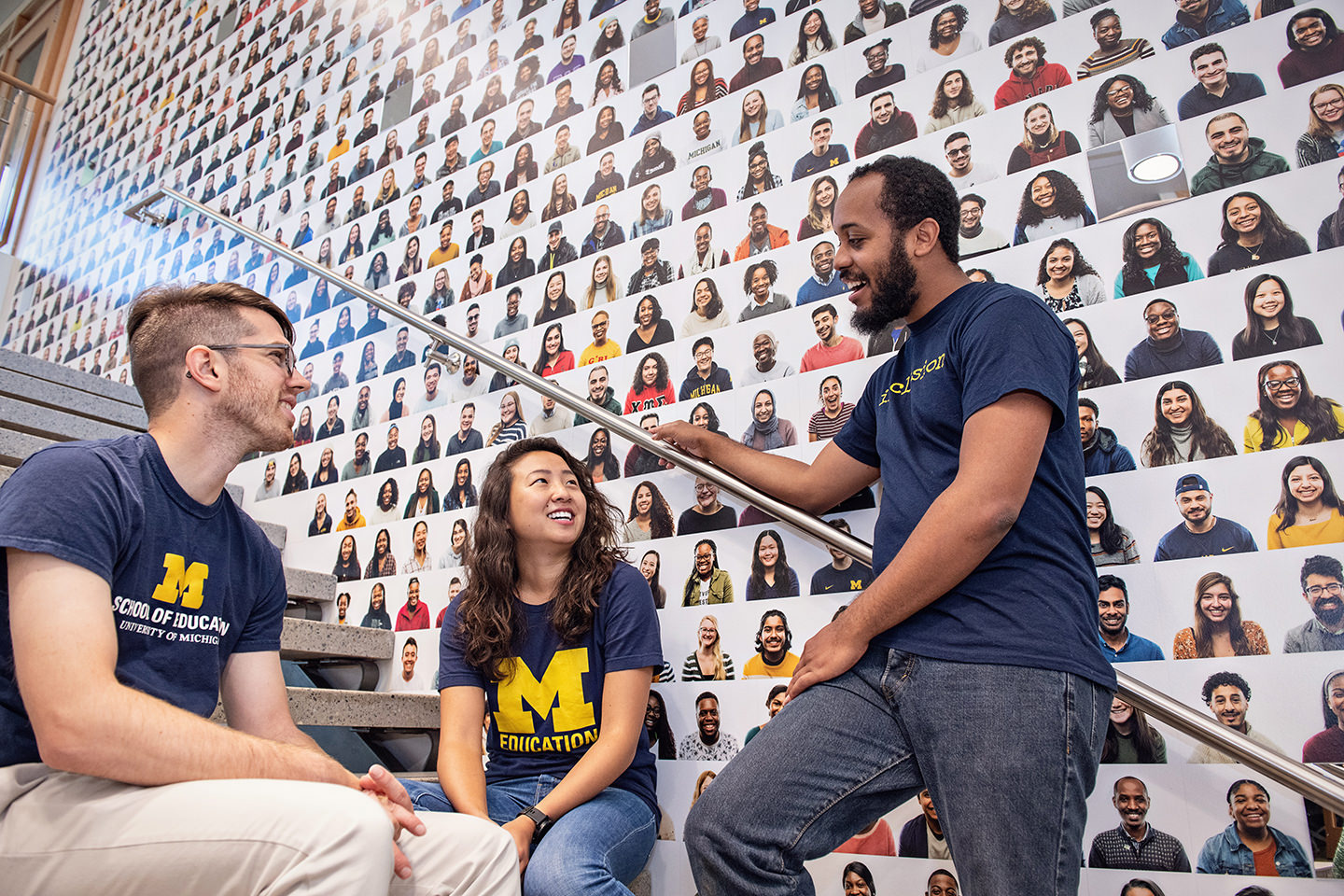 Discover more offerings from CSHPE
The Center for the Study of Postsecondary and Higher Education
Upcoming Information Sessions
Connect with CSHPE
Location
610 E. University Avenue
Room 2117
Ann Arbor, Michigan 48109-1259
Office Hours
Monday–Friday
8:00 a.m.–5:00 p.m.
Careers
94%
of graduates found full time employment or pursued an advanced degree
75%
of graduates are highly satisfied or satisfied with their current position
$54.5k
average starting salary for graduates
Graduates typically go into these industries
College and university administration and faculty
State and national public policy agencies
Government offices
Professional associations
Hiring organizations and job titles
| Organization | Job title | Location |
| --- | --- | --- |
| Fitchburg State University | International Education Coordinator | Fitchburg, MA |
| New York University | Graduate School, PhD Program in Higher Education | New York, NY |
| University of California, San Diego | Project Analyst, Student Affairs | San Diego, CA |
| University of Michigan | Coordinator of Community College Partnerships, OptiMize | Ann Arbor, MI |
| University of Michigan | Graduate School: PhD Program in Higher Education | Ann Arbor, MI |
Internships
During their first year, master's students have the opportunity to expand their skill base by engaging in professional practice across a wide array of functional areas. Students typically pursue an internship during the following summer and fall as well, although this is optional. The internship program includes sites that provide experience in research and program evaluation, curriculum development, academic program management, student affairs and services, and other areas.
Please see the Internship Program for Master's Students page for more information.
Students also complete a policy-related internship through the Gerald R. Ford School to apply knowledge and skills acquired during their studies to significant problems in the public, private, or non-profit sectors.