EdHub Town Hall | The Teacher Shortage in Michigan: Framing Challenges, Envisioning Solutions
Event
Material archive
Event Location
This event was held virtually
This event occurred on April 6, 2022. Archived materials and content from the event are accessible below.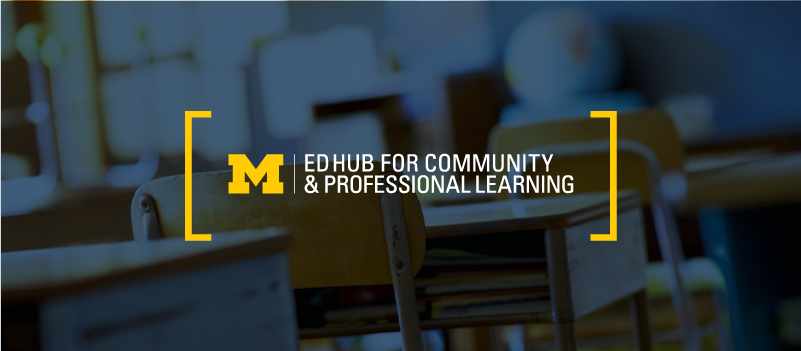 About the Event
Among many challenges pressing on schools state- and nation-wide is that of retaining and recruiting teachers. What do we know about the causes of what is commonly referred to as a 'teacher shortage'? How are leaders in the state working to address this issue? What repercussions does this issue present for families and communities beyond the classroom walls? The EdHub for Community and Professional Learning will host a town hall to discuss these and other questions including how the COVID-19 pandemic has added new complexity to these already sticky problems.
Panelists
The following panelists represent a range of perspectives. Their collective expertise positions them to speak meaningfully about the past and present challenges and possibilities for the future.
ARLYSSA HEARD | Deputy Director and Lead Parent Organizer, 482Forward

 

Arlyssa Heard

is one of the Deputy Directors and Lead Parent Organizer at 482Forward, an education justice organizing network within the city of Detroit. Members of 482Forward have been engaged in various efforts, such as preventing pre-pandemic public school closures, dismantling punitive schooling policies and practices that contribute to the school-to-prison pipeline, advocating for equitable and adequate school funding, and connecting with students and parents to ensure parent/youth voice. Ms. Heard is also a current board and advisory committee member for several community and grassroots organizations including The Children's Center, Mothering Justice, Hope Village Revitalization (Focus Hope Community) and others. She is the host and creator of the forthcoming podcast Have You Heard?

TERRENCE MARTIN, SR. | President, Detroit Federation of Teachers; Vice President, American Federation of Teachers

 

Terrence Martin

is currently serving as President of the Detroit Federation of Teachers (DFT), a union committed to providing Detroit's students and their families with safe, thriving and welcoming public schools. An outspoken advocate for social, educational and economic justice, Mr. Martin has spent the past decade fighting for students, educators, and the people of Detroit. He is a native of Detroit and attended Detroit public schools. Mr. Martin began his advocacy as a second-grade teacher at John Lynch Elementary on the east side of Detroit, where he became a building representative. In addition to his work with the DFT, Mr. Martin is a Vice President of the American Federation of Teachers and a member of the Michigan Education Justice Coalition. Martin received his master's degree in teaching from Marygrove College in Detroit. He is also a graduate of Saint Francis University in Pennsylvania, where he earned his bachelor's degree in elementary education.

ELIZABETH MOJE, PH.D. | Dean and Professor, University of Michigan School of Education

 

Elizabeth Birr Moje

is Dean, George Herbert Mead Collegiate Professor of Education, and an Arthur F. Thurnau Professor in the School of Education. A former high school history and biology teacher, Dr. Moje's research examines young people's navigations of culture, identity, and literacy learning in and out of school in Detroit, Michigan. Dr. Moje is the author of multiple books and journal articles, and in 2010 was awarded the Provost's Teaching Innovation Prize, with colleague Bob Bain, for their work to improve teacher education. Building on more than 20 years of working with Detroit teachers and students, Dr. Moje serves as founder and leader of University of Michigan School of Education's role in the Detroit P-20 Partnership, a collective impact strategy aimed at supporting community-engaged development through enhanced education opportunity for children and families in Detroit communities.

DAYNA POLEHANKI | State Senator, Michigan Legislature

 

Dayna Polehanki

is a member of the Michigan Senate representing District 7, which includes Livonia, Northville, Plymouth, and Canton. Before her election to the state legislature in 2018, Senator Polehanki was a leader in the classroom. She is a two-time Teacher of the Year award winner and has almost 19 years of experience in schools. As a public school teacher and small business owner, Senator Polehanki understands how policies affect our ability to prepare students for college, skilled-trades training and good-paying jobs. She is a champion for better investment in public schools and roads, as well as policies that lower prescription drug prices and that protect our air and water. Senator Polehanki holds a bachelor's degree in Psychology from Central Michigan University, a major in English and teacher certification from Alma College, and a master's degree in teaching from Marygrove College.

MICHAEL RICE, PH.D. | Michigan Superintendent of Public Instruction, Michigan Department of Education

 

Dr. Michael Rice

was appointed Michigan's 44th Superintendent of Public Instruction by Michigan's State Board of Education in May 2019. Since his appointment as state superintendent, Dr. Rice has led the revamping of the state's Top 10 Strategic Education Plan; provided steady guidance and leadership through a global pandemic; and focused educators and policymakers on ways to improve inputs, outputs, and outcomes for children. Dr. Rice came to the Michigan Department of Education after serving 17 years as a local district superintendent in Kalamazoo, MI and Clifton, NJ. Dr. Rice began his career in public education in the Washington, DC Public Schools, where he taught high school French and founded and coached an award-winning speech and debate program. He graduated from Yale University with a bachelor's degree in psychology with honors and from New York University with a master's degree and a Ph.D. in public administration, also with honors.