From Student Representative to Faculty Member
Aixa Marchand (PhD '19) recalls the experiences and people at the SOE that prepared her for a career in teaching.

In 1969, the newly formed Students for Educational Innovation, the only radical student organization in a school of education in the nation, was successful in instituting faculty evaluations and opportunities for students to serve on faculty committees. Today, the U-M School of Education's Executive Committee is composed of the deans, department chairs, faculty representatives, and three doctoral students with two-year terms.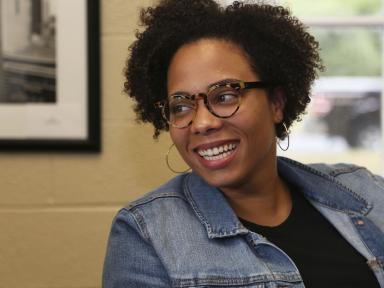 Aixa Marchand (PhD '19) vividly remembers the experiences and people that prepared her to enter the professoriate, including serving as a student representative. "Serving as a student representative on the U-M SOE Executive Committee gave me an early preview into conversations and decisions that committees in academia consider," Marchand said. She also recalls the direct mentoring she received from her professors. "Whether being an exemplary educator in the classroom or providing advice and support, the professors at U-M SOE were a pivotal influence."
Marchand graduated with a PhD from the Combined Program in Psychology and Education and a certificate in African American and Diasporic Studies from the University of Michigan in 2019. An assistant professor in the Departments of Psychology and Educational Studies at Rhodes College in Memphis, Tennessee, her current research is an extension of her doctoral dissertation. "I'm currently interested in better understanding how Black parents think about educational inequities they observe or experience and how that may relate to their school engagement," Marchand said. "I'm currently working on a qualitative project with colleagues at Rhodes College where we're examining parents' and teachers' responses to and understanding of a local district-wide policy and how the media frames the policy and its implications for the community."
The Miami native began her career in the classroom as a middle school science teacher and then a science coach for Miami Dade County Public Schools. Now, as a college professor, she is most excited by the opportunity to work with bright and motivated students once more. "I enjoy being in the classroom space with them, learning from them, and seeing the connections they are making between content they're learning in my class and the real world or in other classes they are taking," Marchand said. She also enjoys the opportunity to collaborate with researchers across the nation, many of which she began working with while in graduate school at U-M. When asked what advice she would give current students considering a job in academia, her answer was both practical and purposeful: "Reflect on what it is that really excites you and do your research on various institutions. With that, you can find a position that aligns best with the things that make you happy."