The Nation's First Chair Devoted to the Study of Education
The University took a dramatic step toward formalizing teacher education in 1879 by appointing William H. Payne as the Chair of the Science and Art of Teaching, the nation's first permanent professorial chair devoted exclusively to education.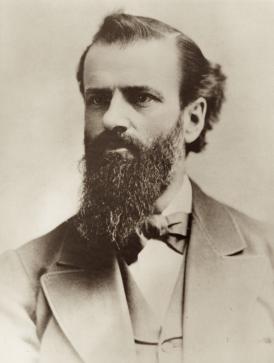 Professor Payne embarked on his largely unprecedented work in the fall of 1879. His experience included serving as the principal of the Three Rivers Union School and superintendent of schools at Adrian. Payne set out five principles that would continue to guide the direction of education well into the next century. The purposes, as outlined by Payne, were to fit the University students for the higher positions in public school service; to promote the study of educational science; to teach the history of education and of educational systems and doctrines; to secure to teaching the rights, prerogatives, and advantages of a profession; and to give a more perfect unity to the state educational system by bringing the secondary schools into closer relations with the University.
Payne viewed education in three main phases—practical, scientific, and historical—and conscientiously worked to avoid duplicating the work of the normal school. For the 1879-80 academic year, Payne offered two courses of instruction for two hours a week each semester. The first was a practical course on school supervision that included grading, courses of study, school hygiene, and school law. Thirty-two students were enrolled in this inaugural course.
The second offering was historical and philosophical, covering the history of education, comparison of European systems, and the theory and science of teaching. The courses continued to evolve and the curriculum slowly grew. The general school management covered in the first course was eventually separated as a third course. In 1882-83, a fourth course was added, devoted to a critical study of Herbert Spencer's Education and Jean Jacque Rousseau's Emile. A fifth course also appeared in 1882-83, a history of ancient and medieval education using Gabriel Compayre's History of Pedagogy. A separate lecture course on the comparative study of educational systems was offered in 1885-86, and in 1887, a history of modern education was added, providing a total of seven offerings in 21 hours of instruction. Special teaching method courses continued to be given by professors in Latin, Greek, French, and physics in connection with the teacher's diploma.
Payne left the University for fourteen years to accept the position of chancellor of the University of Nashville and president of the Peabody Normal School. Upon his return in September 1901, he found that the courses he established years earlier were still in place. He served as chair until his retirement in 1907.
Source: The Science and the Art of Teaching: The 75th year of the University of Michigan School of Education by Brian A. Williams